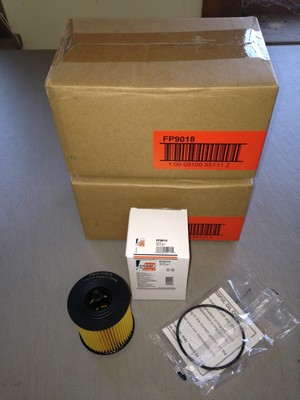 The seller's complete auction listing, and description of their auction is listed below! All Listings are provided by the item's seller, through eBay.com

You're buying TWELVE(12) New Fram Pro FP9018 oil filters w/gaskets... used on MANY Buick, Chevy, Olds, GMC, Pontiac, Saturn, Saab vehicles depending on application.
Fram Pro is an economy/mid grade oil filter that meets or exceeds factory OE specs. Great "bang-for-the-buck" and geared towards the "Do-It-Yourselfer".
FREE USPS Shipping to US 50 states/territories. Others determined by postal zip code.
Part Number FP9018 name desc Product TypeFull-Flow Lube Cartridge Spec_Name Spec_Desc Product Height3.5"Product I.D.1.39" (One End)Product O.D.2.52" Competitor Name Competitor Part AC-DELCOPF2233EAC-DELCOPF2244GAC-DELCOPF2259GAC-DELCOPF456GAC-DELCOPF457GAC-DELCOPF457GOAC-DELCOPF458GAMSOILEA15K03Autolite for Oil FIltersAL9018BALDWINP1439BALDWINP1445BALDWINP7442BECK/ARNLEY041-0810CARQUEST84082CASITECF548CASTROLCAS9018CHAMPP3244DEFENSEDL9018DEUTSCHD378DONALDSONP552441FIRESTONETF3244Flying FCH9018AZGENERAL MOTORS12579143GENERAL MOTORS12605565GENERAL MOTORS12605566GENERAL MOTORS19260345GENERAL MOTORS21018801GENERAL MOTORS22685727GENERAL MOTORS24460713GENERAL MOTORS90537280GENERAL MOTORS93184334GROUP 7V5436HASTINGSLF511HASTINGSLF548HASTINGSLF548FHASTINGSLF624HASTINGSLF624FHAVOLINET-51HENGSTE603HHENGSTE603H02HENGSTE630HD103INTERCONTINENTAL AUTO PARTSALO-103/5INTERCONTINENTAL AUTO PARTSALO-103/51KENDALLK44LUBER-FINERP3244MANN & HUMMELHU69/1MANN & HUMMELHU69/2XMANN & HUMMELML 1015MICROGARDMGL9018MILEGUARDMO9018MOBILM1C-151MOBILMO5436NAPA7082PARTS MASTER67082PARTS PLUSP3244PENNZOILPZ-58PERFORMAXPO-58PERFORMAXPO-58PROMOTIVEPH5436PRO-TEC182PURFLUXL264PURFLUXL264APUROLATORL15436PUROLATORPL15436QUAKER STATEL15386QUAKER STATEQS9018SAAB93 18 4334SECURITYCH-9018SERVICE CHAMP CF5436SERVICE PROM5436SHELLSH51SILVERLINE27082STPS9018RSUPERTECHST9018VALVOLINEVO76WARNERP3244WIX57082