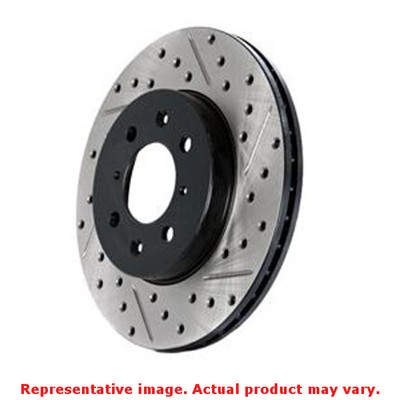 The seller's complete auction listing, and description of their auction is listed below! All Listings are provided by the item's seller, through eBay.com

eBay Store
Shipping
Returns
About Us
Contact Us
Add to Favorites
StopTech 127.62116L
Drilled & Slotted Sportstop Rotor
Images May Not be Item Specific. For Display Purposes Only.
Drilled & Slotted Sportstop Rotor
Your Price: $128.65
Product Details
Manufacturer
StopTech
Part Number
127.62116L
Material
Retail Price
167.07
Your Price
128.65
Country of Manufacture
United States
Color
Ship Weight Lbs
19
Package Quantity
1
Product Notes
Drilled & Slotted Sportstop Rotor
Product Specs
Position
Front Left
Fitment
CHEVROLET
Year
Model
SubModel
Cylinders
Liter
Aspiration
Eng Desg.
Fuel
Notes
2007 - 2010
COBALT
SS
ALL
ALL
S
ALL
ALL
Rear Disc Brakes; Brembo Front Calipers
2009 - 2010
HHR
SSSS PANEL
ALL
ALL
ALL
ALL
ALL
Rear Disc Brakes; Brembo Front Calipers
Shipping:
We are based on North Carolina.
We do not offer local pickup. All items must be shipped.
To best serve our customers, we ship from multiple US warehouses.
Sales Tax:
We are a North Carolina company and must charge sales tax to our North Carolina Customers.
International Customers:
Import duties, taxes, and charges are not included in the item price or shipping cost. These charges are the buyer's responsibility.
Please check with your country's customs office to determine what these additional costs will be prior to bidding or buying.
Below is a general manufacturer product group description.Please note the information below is not item specific. Item specifics are above in product details.
StopTech recognizes that great brakes need to look as good as they perform. Performance wheels and tires are best complemented with StopTech SportStop Cross-Drilled & Slotted rotors.SportStop Drilled & Slotted brake rotors prevent glazing of the pads, add bite and improve wet and dry braking performance.Every SportStop Drilled & Slotted brake rotor is produced from a high quality Centric Parts blank casting and finished in a durable e-coating for corrosion resistance.SportStop Drilled & Slotted rotors look great behind custom wheels, improve the initial bite of the brake pads, and help wipe away the debris that forms between the pad and the disc. A set of SportStop cross-Drilled & Slotted rear replacement rotors is a great way to match the aesthetics of a StopTech Big Brake Kit with the cross-Drilled & Slotted rotor option. E-Coated FinishEvery SportStop rotor is finished with black e-coating on both sides of the hat, inside the the cooling vanes, and on the outside edge. E-coating is a superior electro-statically applied finish designed to withstand 400 hours of salt water exposure without rusting. This is especially important on both mounting faces of the hat where it touches the hub flange and back face of the wheel. Any accumulation of rust in these area can lead to installed lateral run out issues.Power Alloy MetallurgyPower Alloy metallurgy is exclusive feature of SportStop rotors. In specific vehicle applications, StopTech works with foundry partners to increase the molybdenum or carbon content of the castings, and to carefully control the cooling rate during production to reach targets for hardness and tensile strength.Cooling Vane DesignNearly all SportStop Cross-Drilled & Slotted rotors have unique Drilled & Slotted hole patterns for the left and right sides of the vehicle. For these directional patterns, straight vane or pillar vane rotors are used to ensure that a Drilled & Slotted hole never touches a cooling vane.