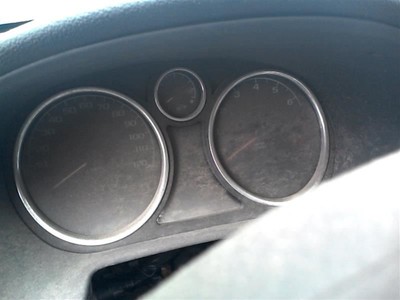 Andys Auto Parts! Home of the TV series Junkyard Empire
The seller's complete auction listing, and description of their auction is listed below! All Listings are provided by the item's seller, through eBay.com

Welcome to our eBay Store!
Starter Motor Fits 10-16 EQUINOX 350217
Description
Donor Vehicle
Model:
COBALT
Year:
2009
Mileage:
0 (0 = not available or unknown)
Stock Number:
180865
Store Number:
1
Part Detail
Part Grade:
A
Part Category:
Y
Part Placement:
Notes:
2.2L,AUTO
This part will fit these makes and models with these options
AURA 09 2.4LCAPTIVA SPORT 13 (2.4L)MALIBU 08 classic style (emblem in grille), 2.2LVERANO 14-16VUE 08 2.4LORLANDO 12-13 ATTERRAIN 10-12 2.4LMALIBU 13-14 2.4LREGAL 11-13REGAL 14-16 2.4LLACROSSE 11-13 2.4LG5 08-10HHR 08-11LACROSSE 14-16 2.4LLACROSSE 10 2.4LMALIBU 08 new style (emblem in bumper cover), 2.4LORLANDO 14 ATIMPALA 14 VIN 1 (4th digit, New Style), 2.4LVUE 09-10 2.4LG6 10 2.4LEQUINOX 13-16 2.4LSKY 08-10AURA 07-08 2.4LTERRAIN 13-16 2.4LVERANO 12-13CAPTIVA SPORT 12 2.4LCOBALT 08-10EQUINOX 10-12 2.4LG6 08-09 2.4LALLURE 10 2.4LCAPTIVA SPORT 14-15MALIBU 09-12 2.4LSOLSTICE 08-10
WARRANTY / GUARANTEE
Andy's Auto Parts 4551 Tanglewood Dr Bladensburg, MD 20710
The majority of our parts come with a 60 day warranty unless otherwise stated
Engine Warranty & Installation Procedures
Prior to installation of your used engine we require these steps be taken for warranty to be valid. Also please note while engines may come with accessories these are not covered under any warranty. This engine comes with a 60 day part only warranty. Extended warranties may be purchased as well. Engines are guaranteed against knocking and excessive smoking. Warranty is void if engines heat tab is melted or removed. Pre-Installation Requirements: Drain and replace engine oils to manufacture suggested levels. Replace oil, air and fuel filters. Replace valve cover gaskets. Replace oil pan gasket and rear main seal. If needed replace timing gears, chains or belts & gaskets. Replace thermostat & gasket. Flush cooling system and re-fill. Install new spark plugs & wires. Install new belts and hoses. Failure to provide proof any of these steps were not taken may void warranty.
Transmission Installation Procedures
Prior to installation of your used transmission we require these steps be taken for warranty to be valid. Failure to provide proof these steps were taken will void any warranty. Pre-Installation Requirements: Replace all seals. Install new filter kit. Flush and inspect cooling lines. Allign and engage torque converter into front pump. Fill trans with manufacture specified fluid. Clear all transmission computer codes prior to starting or operating vehicle. Adjust throttle position sensor cable.
SHIPPING NOTES ABOUT US HELP
For shipping on Engines, Transmissions, Seats, Rear Axles and some Transfer Cases:
Our freight carrier requires a commercial business address with a loading dock or forklift to unload the truck. Most of our customers choose to ship directly to the shop that is installing their part as long as it is a commercial business address.
If you cannot provide a commercial business address, we can deliver this part to a freight terminal for your pickup at no additional charge. Please contact us first so that we can give you the location of your closest freight terminal. 
For small items we ship they will ship with UPS or USPS with live tracking information. You will receive an email with tracking information as soon as your part ships. Please allow 1-5 business days for your part to arrive.
Welcome to Andy's Auto Parts, a division of Cohen Recycling!
We are a full service auto recycling business serving the Washington DC metropolitan area for over 25 years. Our 3 acre facility contains an extensive selection of high-quality new and used parts at extremely affordable prices; all with a 101 day warranty. We deliver to the tri-county area and ship worldwide.
Our yard has many foreign and domestic cars, trucks and motorcycles from which parts can be taken. We can also supply new after-market parts if we don't have something you need. We operate the Hollander automotive inventory system. This allows us to locate your part in our inventory in seconds. We process over 75 late model vehicles a month, but if by chance we don't have what you are looking for in stock, we will expand the search to find your part!
What's Included On Engine Sale
Complete long block with block and heads
Oil Pan
Intake Manifold with Fuel Injectors
Exhaust Manifold(s)
What's NOT Included
Alternator
Starter
Power Steering Pump
AC Compressor
Engine Computer
We offer quality high end used and tested auto parts. We also offer the best warranty program in the industry.
Our knowledgeable staff is available to assist you with friendly service. We answer all questions promptly during normal business hours.
If you have a question about a part please contact us BEFORE purchasing.          
Our main contact method is by eBay Messages. We try to answer all messages within 24 hours. If we are unable to answer your questions before the listing ends the item will be re-listed again soon for you to purchase.