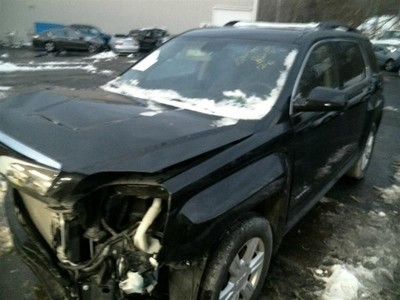 Free 6 Month Warranty - Trusted eBay Seller
The seller's complete auction listing, and description of their auction is listed below! All Listings are provided by the item's seller, through eBay.com

Starter Motor Fits 10-16 EQUINOX 336529
Description:
This part was pulled from a 2015 TERRAIN with approximately 24000 miles.
Detailed information on this part may be found in the part information section below. It will be compatible with the vehicle indicated, and will also be compatible with other makes and models as indicated in the part compatiblity section below.
If you are not sure if this part is compatible with your vehicle, please feel free to contact us with any questions or concerns before you make your purchase.
Part Information:
Inventory #: 604-00142
Item ID#: 336529
Part Placement:
Our Notes: 2.4,AT,11/14
Donor Vehicle Information:
Year: 2015
Model: TERRAIN
Mileage: 24000 (0=Unknown)
Stock #: AA4794
This Part Is Compatible With The Following Makes, Models, & Options:
AURA 09 2.4LCAPTIVA SPORT 13 (2.4L)MALIBU 08 classic style (emblem in grille), 2.2LVERANO 14-16VUE 08 2.4LORLANDO 12-13 ATTERRAIN 10-12 2.4LMALIBU 13-14 2.4LREGAL 11-13REGAL 14-16 2.4LLACROSSE 11-13 2.4LG5 08-10HHR 08-11LACROSSE 14-16 2.4LLACROSSE 10 2.4LMALIBU 08 new style (emblem in bumper cover), 2.4LORLANDO 14 ATIMPALA 14 VIN 1 (4th digit, New Style), 2.4LVUE 09-10 2.4LG6 10 2.4LEQUINOX 13-16 2.4LSKY 08-10AURA 07-08 2.4LTERRAIN 13-16 2.4LVERANO 12-13CAPTIVA SPORT 12 2.4LCOBALT 08-10EQUINOX 10-12 2.4LG6 08-09 2.4LALLURE 10 2.4LCAPTIVA SPORT 14-15MALIBU 09-12 2.4LSOLSTICE 08-10
Click Here For All Parts From This Vehicle Click Here For All Parts For This Model
WARRANTY / GUARANTEE
We strive to provide high quality, used auto parts to all of our customers. We are proud to offer a 6-month warranty on most of our parts, unless otherwise stated on the invoice. We offer extended insurance plans on all of our parts for an additional charge - contact us for more information.
All parts, unless otherwise stated, come with a 30-Day Money Back Guarantee and a 6-Month Limited Replacement Warranty*. No refunds will be given on deposits or any "cut" items. Shipping charges and return shipment charges will not be refunded.
All parts must be properly installed by a certified mechanic - documentation will be required to support all warranty claims. Warranty does not include labor, fluids, seals and/or gaskets.
All returns must be authorized - contact us with an eBay Message within the 30-day return period to obtain authorization.
Engine Warranty:
Nationwide Used Auto Parts warrants to the original purchaser the internal parts of its engines to be free of defects for a period of 6 months from the date of invoice, unless specified on the invoice. The components of an engine that is covered under this warranty are the engine block, cylinder head with vales, cam shaft, connecting rods and bearing, piston and piston rings, internal oil pump, crank shaft and bearings, rocker arms, valve lifters and timing chain gears. The engine head(s) and block and cylinder barrels are covered only if they are damaged only as a result of the mechanical failure of the internal lubricated components specified above. All accessory items (electrical components, distributor, alternator, all sensors and electrical control devices), fuel system components, thermostat, water pump, manifolds, wiring harnesses, oil pan, gaskets, seals, filters, fluids and all external parts are not covered under this warranty. Warranty void if the timing belt is not replaced before installation and does not cover damage caused by timing belt failure since the belt was supplied by the installer not Nationwide Used Auto Parts. Calibration and adjustment of excluded parts is excluded from this warranty. Warranty is void if new oil and oil filter are not used in installation. Warranty is void if the customer fails to provide appropriate service documents related to defective part. Warranty is void if heat tabs are damaged. (Engines with more than 100,000 miles carry a 30-day parts warranty only)
Transmission Warranty:
Nationwide Used Auto parts warrants to the original purchaser its transmission to be free of defects for a period of 6 months from the date of invoice, unless specified on the front of this invoice. The parts covered by this warranty are the transmission case and all internal parts including the torque converter. Excluded from this warranty are the transmission mounts, shifting linkage, flywheel, all other external parts and problems that result from not installing new input & output shaft seals when installing the transmission. All transmission valve bodies must be reprogrammed and proper fluids need to be added to avoid any issues after installation. This is especially true regarding range rover transmissions. These transmissions must be installed by a qualified technician. Warranty void if unit improperly installed or adjusted.
SHIPPING INFORMATION
All shipping orders received after 12PM Eastern Time will be processed on the following business day and will be shipped within 48 hours. Orders received before 12PM Eastern Time will be processed on the same day and will be shipped within 48 hours.
Business days do not include weekends or holidays. Our shipping department does not operate on weekends. Tracking information for your order will be available upon request once your order has left our facility.
Most items will ship via UPS ground. Some large items (i.e. drivetrain components, body panels etc.) will be required to be shipped via freight carrier.
All freight shipments will be wrapped and secured by metal straps onto a pallet. Nationwide Used Auto Parts is not responsible for any damages incurred during the time of shipment. All freight shipments must be destined to a commercial/business address and be able to be unloaded by dock/forklift. For all residential deliveries contact a member of our eBay department for details. We are not responsible for any additional charges or delays incurred by the freight shipping carrier. For any items that arrive damaged, contact a member of our eBay Department for immediate assistance.
For same day shipping availability, contact us and speak to a member of our eBay Department.
WE NOW OFFER INTERNATIONAL SHIPPING VIA EBAY'S GLOBAL SHIPPING PROGRAM!
HOWEVER, WE ARE UNABLE TO SHIP TO P.O. BOX ADDRESSES.
Customer pick up is available and encouraged at our Central Valley, NY location! There is no extra charge.
Pick up at our facilities is available. Please email us prior to your purchase to arrange pick up.
Items will be shipped within 1-2 days of purchase.
Please allow 5-10 days for delivery. Most areas in the US are within 5 days. No expedited shipping is available.
If an item arrives damaged, please contact us via eBay Message within 24 hours for instructions.
ABOUT US
Leaders in the Used Auto Parts Industry
NationWide Used Auto Parts is a family run business with over three decades of experience in the automotive recycling industry. With hundreds of late model foreign and domestic cars on premise, we are confident we can help you with all of your used auto part needs.
We have new inventory added to our stock on a daily basis! With multiple buyers attending auto auctions on a weekly basis; we take pride in carefully selecting our inventory, to cater to our customer's needs. We strive to create and maintain a customer satisfaction driven environment. Our inventory goes through a multi-point inspection process that ensures the parts we have for sale are of the best quality.
HELP
We will be happy to help you find the correct part that you are looking for. To find the correct part we will need your vehicle's YEAR, MAKE, MODEL and VIN NUMBER. With this info, we are confident we can help you locate the part you are looking for or provide you with a comparable replacement.
We are available from 8AM to 5PM eastern time from Monday through Friday. We will try our best to answer any questions you may have in less than 24 hours from the time your request has been processed; if your request has been submitted during non-operating hours, we will get back to you on the next business day.
PLEASE BE AWARE OF RED CIRCLES AS THEY MAY INDICATE DAMAGE
LEFT SIDE IS THE DRIVER'S SIDE, RIGHT SIDE IS THE PASSENGER'S SIDE.
FRONT IS TOWARD THE ENGINE, REAR IS TOWARD THE TRUNK.
Core Charge. Core is an acronym for "Cash On Return". A core charge is sometimes applied to rebuildable parts such as engines or alternators that can be redeemed for a portion of their original price. If the part you are purchasing has a core charge applied, it will be noted in the description.
Parts Grading. A standard code system is used to communicate the condition and quality of a part between automotive recyclers, automotive repair shops, and insurers. Knowing how these codes are used will help you understand whether the part meets your expectations before you buy it and what you can expect from the part when you receive it.
A Grade - The highest quality part. It is of low miles and/or exceptional condition for its age.
B Grade - The second level quality part. It is of average miles and normal condition for its age.
C Grade - The third level quality part. It has high miles and/or light damage.
No Grade - A part that has not yet been graded.
Damage Codes: (See Conditions & Options Above)
Secure Payments By