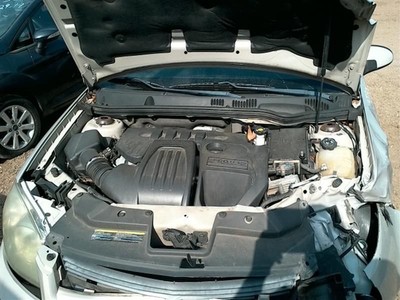 60 Day Returns, 90 Day Warranty, Se Habla Español
The seller's complete auction listing, and description of their auction is listed below! All Listings are provided by the item's seller, through eBay.com
Template By Frooition Lite! Starter Motor Fits 10-16 EQUINOX 2663477     Donor Vehicle   Model COBALT Year 2009 Mileage 152000 Miles    (0 = not available or unknown) Stock Number 3JB066 Store Number  3 NOTE: Image(s) shown may be the vehicle from which the part was pulled, or a generic image representing typical stock, rather than the unique item being sold.   Part Detail (see Help) Part Grade Part Category U Part Placement Notes 4DR,2.2L,AT 00017 This part will fit these makes and models with these options AURA 09 2.4LCAPTIVA SPORT 13 (2.4L)MALIBU 08 classic style (emblem in grille), 2.2LVERANO 14-16VUE 08 2.4LORLANDO 12-13 ATTERRAIN 10-12 2.4LMALIBU 13-14 2.4LREGAL 11-13REGAL 14-16 2.4LLACROSSE 11-13 2.4LG5 08-10HHR 08-11LACROSSE 14-16 2.4LLACROSSE 10 2.4LMALIBU 08 new style (emblem in bumper cover), 2.4LORLANDO 14 ATIMPALA 14 VIN 1 (4th digit, New Style), 2.4LVUE 09-10 2.4LG6 10 2.4LEQUINOX 13-16 2.4LSKY 08-10AURA 07-08 2.4LTERRAIN 13-16 2.4LVERANO 12-13CAPTIVA SPORT 12 2.4LCOBALT 08-10EQUINOX 10-12 2.4LG6 08-09 2.4LALLURE 10 2.4LCAPTIVA SPORT 14-15MALIBU 09-12 2.4LSOLSTICE 08-10 Guarantee and Returns
Most parts we sell through eBay Motors come with a 90-day money back guarantee unless otherwise stated. The 90 day period starts when you take possession of the part. No labor warranty is provided. 
In the event a part sold with a warranty fails to operate within the warranty period we will replace the part(s) with a functionally equivalent part or refund the part purchase price, at our option.
Shipping
UPS or USPS delivery for non freight items.
Freight packages will be sent to a commecerial address with proper unloading facilities. Residential or limited access deliveries are available for an additional $125.  
Pick up at our facilities is available. Please email us prior to your purchase to arrange pick up. 
Handling times for freight packages are 2-3 business days.    
Payment Policies
We accept immediate payment using a credit card via PayPal only. 
Alabama (AL) Sales Tax will be applied to all orders shipped to the state of Alabama. 
Help
Parts Grading. A standard code system is used to communicate the condition and quality of a part between automotive recyclers, automotive repair shops, and insurers. Knowing how these codes are used will help you understand whether the part meets your expectations before you buy it and what you can expect from the part when you receive it.
A Grade
- The highest quality part. It is of low miles and/or exceptional condition for its age.
B Grade
- The second level quality part. It is of average miles and normal condition for its age.
C Grade
- The third level quality part. It has high miles and/or light damage.
No Grade
- A part that has not yet been graded.
Contact Us
Our main contact method is by email. We try to answer all emails within 24 hours, Monday - Friday, 7:30 AM to 5 PM Central Standard Time. 
If we are unable to answer your questions before the listing ends the item will be re-listed again soon for you to purchase. 
Have any questions?  Please use the  Ask a question feature on this listing for all questions..
        Lite template by Frooition.com Frooition www.frooition.com | eBay design, eBay store design, eBay shop design, eBay template design, eBay listing design