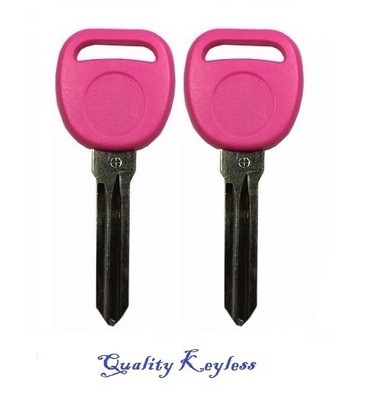 Free programming instructions found in the listing!
The seller's complete auction listing, and description of their auction is listed below! All Listings are provided by the item's seller, through eBay.com

QUALITY REMOTES AND KEYS!!!
Thank you for checking out our eBay listings! These GM transponder keys will arrive exactly as pictured and will work with any vehicle on the compatibility chart. These keys are self-programmable, saving you time and money. Please follow these instructions:
(REQUIRES AT LEAST ONE WORKING KEY)
1. Verify that the new key has a "+" stamped on it.
2. Insert the original, already programmed key in the ignition and start the engine. If the engine will not start, see your dealer for service.
3. After the engine has started, turn the key to off and remove the key.
4. Insert the key to be programmed and turn it to on within 10 seconds of removing the original key.
5. The security light will turn off once the key has been programmed. It may not be apparent if the security light went on due to how quickly the key is programmed. If your vehicle does not have a security light (04-07 Grand Prix, Bonneville, Impala) wait 10 minutes and 45 seconds to make sure the key has been programmed.
6. Repeat steps 1 through 5 if additional keys are to be programmed.
We pride ourselves on fast shipping times and have always hit our mark on our website and through other online retailers. We ship all items same day with the exception of weekends. All items are shipped USPS First-Class Mail with tracking and free shipping. All shipments are well packaged and are guaranteed to work as advertised.
All payments must be made through PayPal. Thank you so much for your business and we hope you'll come back to us again in the future! All items are covered with a 90 day warranty and items may be returned for any reason. All returns receive a full refund without any silly restocking fees!