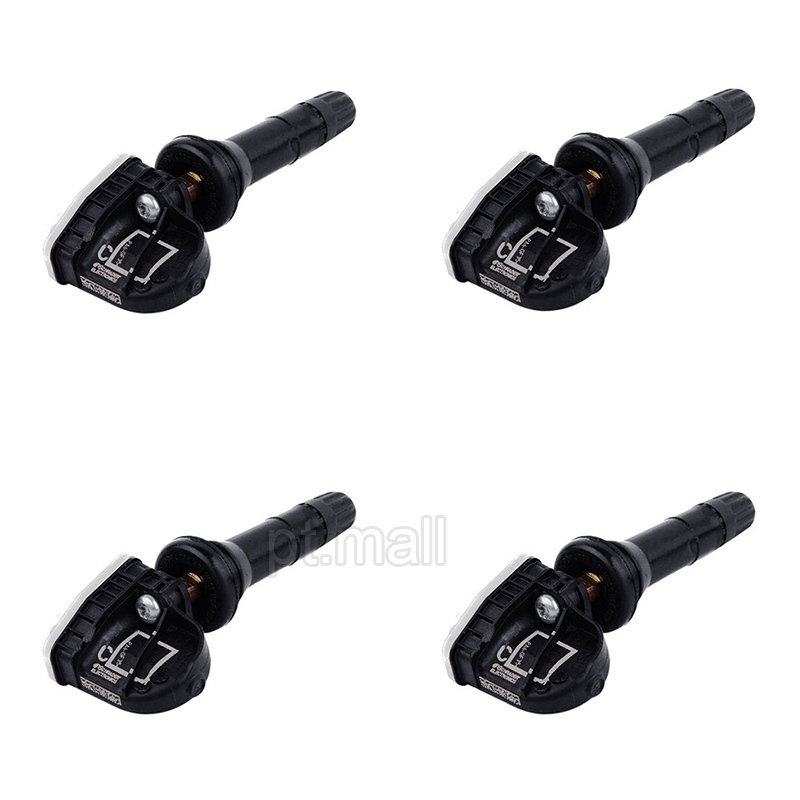 The seller's complete auction listing, and description of their auction is listed below! All Listings are provided by the item's seller, through eBay.com

OEM 23445327 Tire Pressure Sensors TPMS Set of (4) Buick Cadillac Chevy GMC G
Item Specifications
Part Number:23445327, 13598771, 13586335Condition:Tire pressure sensors may require programming or "re-learning" before they will become activated or recognized by the vehicle upon installation. Please check your owner's manual for details on this process specific to your vehicle.Package Includes: 4 X TPMSInstallation of TPMS is recommended to be performed only by trained professionals.This item will fit the following vehicles / applications:2009-2015 Buick Enclave2008-2009 Buick Lacrosse2006-2011 Buick Lucerne2011-2014 Cadillac CTS/CTS-V Coupe, with 315MHz Sensors2008-2014 Cadillac CTS/CTS-V Sedan2010-2014 Cadillac CTS/CTS-V Wagon2007-2011 Cadillac DTS2007-2014 Cadillac Escalade2007-2014 Cadillac Escalade ESV2007-2013 Cadillac Escalade EXT2009-2013 Cadillac Escalade Hybrid2007-2009 Cadillac SRX2009-2011 Cadillac STS/STS-V2007-2013 Chevrolet Avalanche2009-2011 Chevrolet Aveo 52007-2011 Chevrolet Aveo Sedan2012-2015 Chevrolet Captiva Sport2008-2010 Chevrolet Cobalt2009-2014 Chevrolet Express 15002009-2015 Chevrolet Express 25002009-2015 Chevrolet Express 35002007-2014 Chevrolet Impala Limited2008-2012 Chevrolet Malibu2008-2010 Chevrolet Malibu Hybrid2007-2014 Chevrolet Monte Carlo2007-2013 Chevrolet Silverado 15002007-2014 Chevrolet Silverado 25002007-2014 Chevrolet Silverado 35002007-2014 Chevrolet Suburban2007-2014 Chevrolet Tahoe2009-2015 Chevrolet Traverse2009-2015 GMC Acadia2009-2014 GMC Savana 15002009-2015 GMC Savana 25002009-2015 GMC Savana 35002007-2013 GMC Sierra 15002007-2014 GMC Sierra 2500 HD2007-2014 GMC Sierra 3500 HD2007-2014 GMC Yukon2007-2014 GMC Yukon XL 15002007-2014 GMC Yukon XL 25002008-2009 Hummer Hummer H22007-2009 Pontiac G52008-2010 Pontiac G6, 2008 2nd Design2008-2009 Pontiac G82008-2010 Saturn Aura, 2008 2nd Design2008-2009 Saturn Aura Hybrid, 2008 2nd Design2009-2010 Saturn Outlook2010 Saturn Sky2008-2010 Saturn Vue2008-2009 Saturn Vue Hybrid
About Policy:
Payment Policy
2. You can checkout and pay immediately after the auction ends or you complete the purchases. If you need an eBay invoice sent to you by Email, please contact us before making payments.
3.Once the checkout is completed, you will not be able to include any additional purchases. We start to process and fulfill your order once payment is received. New purchases after the checkout will be processed separately.
4. Payments are expected within 4 days after the order is confirmed. Unpaid item (UPI) strike may be filed with eBay upon non-receipt of payment.
2
Delivery Policy
1.We will ship to U.S via UPS or FedEx, outside of U.S will ship by DHL from our HK warehouse
2.The following is an estimated delivery time for your reference:
Shipping within 48 states usually takes 3 to 5 days by UPS/FedEx (We are shipping from CA/KY/NJ)
Shipping to european countries and Australia usually takes 5 to 7 days by DHL from our china warehouse
Shipping to most other countries usually takes 5 to 10 days by DHL from our china warehouse
Warranty
1,Warranty will be valid for 12 months against manufacturing defect.
2,The warranty shall not apply to the following circumstances:
a) Damage caused by undue ware&tear,misuse, improper installation or operation, neglect,accidents.
b) Damage caused by natural disaters,flood fire,lightning or pollution.
c) If item was opened, any parts removed or repaired by any unauthorized person.
d) No warranty will be given for incomplete warranty card.
Return
1. We put buyer's satisfaction at top priority. If you're not pleased with your purchases, we'll be happy to make an exchange or refund the item total price less Shipping and Handling (S&H) charges within 30 days of your purchases.
2. For any Exchange, Refund or Return, the item must be in its original condition, including the box, packaging, and all the accessories or gifts.
3. Please allow up to 7 business days for returns to be processed.
4. Shipping and Handling (S&H) charges are not refundable.
Feedback
We have always been trying to provide the best service and reliable products for every customer, however, accident may happen sometimes, please contact us to resolve any issue before leIf you are not satisfied, please let us know before leaving feedback! We want you to be 100% satisfied with your order. When you received your order, please take a moment to leave us positive feedback and 5 star rating on eBay to us is appreciated, vital and very valuable to the continued success of our business.aving a negative feedback.
Contact us
Please help us do not open the dispute or return request before e-mail us.For any questions, please also feel free to email us, we will reply you within 1 business day. (not include Public holiday)