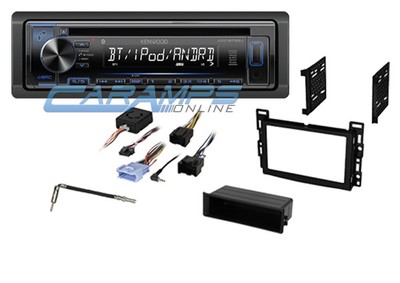 The seller's complete auction listing, and description of their auction is listed below! All Listings are provided by the item's seller, through eBay.com

???
our store
about us
shipping
returns
?
Accessories
Amps
Car Stereos
Marine
Speakers
Subwoofers
Video
Brands
Car Stereo With Complete Installation Kit
Kenwood Stereo with AUX/USB Inputs & Bluetooth
??
?
Description
When replacing your factory radio with an after-market car stereo, a dash kit is a must for a quick and professional looking installation. It will securely mount your new stereo in the dash and will result in a professional gapless finish between your radio and the dash.
When replacing your factory radio with an after-market car stereo, a wire harness is a must for a quick installation. It eliminates cutting your OE radio plug helping to maintain your cars value. After connecting it, your install is simple as the wires will color-match and easily connect to the after-market stereo. Without a wiring harness you will have to cut the factory harness and then test each wire to connect to your radio.
In addition, because you do not have to cut your OE radio plug off, using an wiring harness allows you to reinstall your factory receiver at a later time. A great example is if you sold your car, but wanted to keep your after-market radio and re-install your factory stereo receiver.
We have put this kit together with all of the parts needed for your installation. If you are doing the installation yourself the only thing you will need are common tools to take your dash apart and a good pair of crimpers to crimp the wire harnesses together with the included crimp caps. We do recommend that on some cars if you are installing this yourself that you use a set of dash removal tools that are made to remove your dash without scratching or damaging it.
???
Condition:
?
Features:Includes everything needed for installationWire harness connects the aftermarket stereo harness to the vehicles factory harnessDesigned specifically to fit the compatible vehiclesWire harness will plug into the factory without cutting any wiresStandard color coded wires provide a consistent and simplified installationMade from OEM quality materialsWorks with all factory sound systems including premium systemsDoes not retain OnStar if equippedDoes not retain drivers information center in the factory radioWill not retain steering wheel controls if equipped (additional interface would be required, contact us a discount when purchased with this package)
Kenwood KDC-BT22 Stereo Features:
Bluetooth:
Make hands free phone callsHands free Bluetooth audio streamingStream, skip and rate tracks straight from the head unitWorks with most Bluetooth enabled cell phones and tabletsDual phone connectionExternal microphone for clear, convenient talking
Smartphone Integration:
Apple iPhone, iPod, iPad
Hands free calling with voice recognitionBluetooth audio streamingStream Pandora, iHeartRadio, and Spotify with your Bluetooth device1.5A USB will charge iPod and iPhone, it will not charge iPad
Android Devices
Hands free callingBluetooth audio streamingStream Pandora, iHeartRadio, and Spotify with your Bluetooth device1.5A USB charge will charge mobile devices, it will not charge tablets
Play Back and Audio Features:
Plays audio from Bluetooth, CD's, and through the USB and AUX inputsPlays MP3, WMA, WAV, and FLAC music files through USB storage devicesPlays MP3 and WMA files from CD CD-R/RWAM/FM tuner50 watts x 4 maximum power output (22 watts x 4 RMS)13 band equalizer with 8 presets3-level loudness (off/LV1/LV2)5-level bass boost (+1 - +5)3-levels of space enhancement virtually enhances the sound space3-level realizer creates clearer sound when playing compressed filesStage EQ moves center of sound higher or lower (off/low/medium/high)Vehicle selection and speaker size help optimize the sound to your specific vehicleHigh and low pass filtersDigital time alignmentSubwoofer level, phase, and crossoverSource volume adjust
Display Features:
Detachable theft deterrent faceBlue button illuminationWhite single line displayAdjustable brightnessDigital clock and date with 12 or 24 hour settings
Inputs and Outputs:
Inputs:Front AUX inputFront USB inputOutputs:1 set 2.5V preamp outputs (front, rear/subwoofer)
Other Options:
Stereo is steering wheel control ready, Additional interface required and not included
??Includes:
New Kenwood Car StereoDash KitRadio Replacement InterfaceAntenna Adapter20 Crimp Caps
Compatibility
Chevrolet2005 - 2010 Cobalt2006 - 2011 HHR2005 - 2006 Equinox2004 - 2012 Malibu2008 Malibu Classic 2004 - 2007 Malibu Maxx
Pontiac
2007 - 2009 G52005 - 2010 G62006 - 2009 Solstice2006 Torrent
Saturn2007 - 2009 Aura2007 - 2009 SkyCOMPATIBILITY notes - The interface in this kit does not retain the drivers information center that is on the factory radio. - The interface in this kit does not retain OnStar. It will work if your vehicle has OnStar but will not retain it.
?
Our warehouse is full of Accessories, Amps, In Dash Receivers, Speakers, and Subwoofers

Click here to visit our eBay store for all of your car stereo needs
Shipping
- This item is regularly stocked and will ship within 1 business day.

- This item ships via UPS. Can be shipped via USPS Priority Mail
- Free shipping to the 48 states
- Can be shipped to Alaska, Hawaii, PO Box and US Territories by selecting Priority Mail at checkout

- International customers: Import duties, taxes, and charges are not included in the item price or shipping cost. These charges are the buyer's responsibility.
payments
-All payments are expected within 3 days of purchase. Any payments not received by then will be reported to eBay
-We accept PayPal, and all major credit cards
-When paying through our merchant account you must have your item shipped to the billing address your credit card has on file
returns
- Returns are accepted within 30 days

- The item should be unopened in the same condition they were received

- Buyer is responsible for return shipping charges

- We cannot accept returns on items that have been used, installed incorrectly, or abused

- If for any reason your part does not fit please contact us so we can help get the problem resolved.

- You can view our entire return policy here
feedback
-If you do have any problem with your purchase please contact us so we can resolve the problem.

- We strive for 5 star feedback. If you feel we did not meet this please send us a message so that we can work with you to resolve the issue.