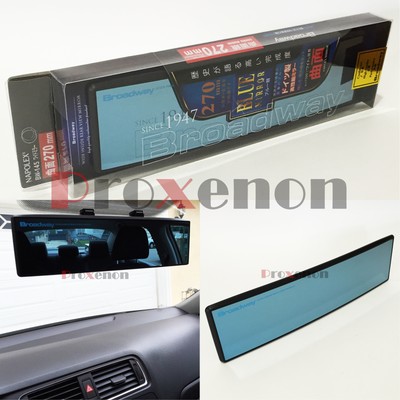 The seller's complete auction listing, and description of their auction is listed below! All Listings are provided by the item's seller, through eBay.com

New Page 1
- Order by
6PM EST and we ship this item
TODAY!
- Always Free USA Shipping with your
ProXenon orders.
- Offer our most competitive price on brand new products.

___________________________________________________________________________

Product Pictures

___________________________________________________________________________

Product Contents
One Piece (1x):
Brand New NAPOLEX BROADWAY Interior Clip-On Wide Rear View Mirror

Features

Blue Tint 270mm Convex (BW145)
| Blue Tint


Detailed Specifications
Condition:
100%
Brand New
Model: Blue Tint 270mm Convex (BW145)
Color:
Blue Tint
Improvement:
High Polish Mirror Provides Better Reflection, Visibility, and Minimizes Blind Spots with Wider Range of View
Design: Ultra Light Weight and Slim Body Design to Improve Appearance
Clamp: Rubber Clamp Clip Prevents Vibration and Damage to Stock Mirror
Installation: Direct Clip-On Stock Mirror Replacement (Universal Fit All Cars)
Modification: No Sticking, Taping, Screwing, or Drilling Required
Warranty: Yes, 60 Full Days Warranty
Note:
All Napolex Broadway Mirrors are now made in China as they stopped making them in Japan years ago. The quality has not changed as Napolex has very strict quality control so these are as good as the old ones.
Please understand although we try
to make our compatibility table as accurate as possible, we cannot
guaranteed it is 100% correct. Please double check your user manual or
contact us before purchase if you have any question. Thank you for your
interest.
___________________________________________________________________________
General Policies
Please contact us first
before purchase if you have any question about this product.
We value your business and we are here to assist you. If your item
is damaged, defected, or if you are not satisfied with our product,
please let us know and we want your transaction to go perfectly.
Shipping and
Billing:
- We only accept
payment from, and ship to, Confirmed PayPal
addresses.
- We ship most of the packages the same day if ordered before 5PM EST
under normal circumstances.
- We do not offer local pickups.
- We ship Worldwide.
- Some International shipments may take longer subject to your local
customs authorities.
- Sale tax must be applied for shipment to CA, California,
addresses by law.
Returns:
- We only warranty the
cost of items. Any installation or other fees are non-refundable.
- If a parts arrives damaged, or is defective, please report to us
immediately.
- Any defects due to water damage, fire, mis-use, mis-installation, or
damage from any impact is not under warranty.
Payment:
- We accept payment via PayPal.
- Please ensure that the shipping address you provide at checkout is
accurate. We are not responsible for undeliverable or wrong
addresses.
Questions:
Professional installation
of all items is always highly recommended.
We are here to ensure that you are
satisfied with our services. If you have any questions or concerns,
please contact us and one of our customer service representatives would
do our best to assist you in resolving any issues within 1 business day
during our business hours. Thank you for your interest and we hope to
do business with you!
Business Hours
- Monday to Friday:
9:00AM - 6:00PM (PST)
- Saturday to Sunday: Close
- All Major Public Holidays: Close
Thank You For Shopping With
ProXenon!