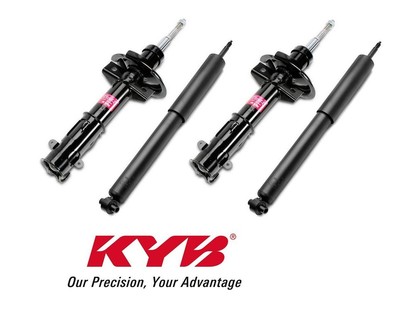 The seller's complete auction listing, and description of their auction is listed below! All Listings are provided by the item's seller, through eBay.com

Brand New
KYB Performance Struts/Shocks
KYB's Excel-G shock and strut is the ultimate compromise of smoothness and control, providing enthusiasts with great performance as well as comfort. Intended to work great with both OEM springs and aftermarket lowering springs, the Excel-G features a twin tube design for great ride quality and response. It uses a low pressure gas charge and check valve to minimize foaming and aeration to ensure good ride quality. The Excel-G is ideal as an OEM replacement or a performance upgrade and is designed to withstand virtually all types of road condition. KYB valves each Excel-G shock to work with your specific application and is designed to exceed OEM build standards. All Excel-G shocks are also calibrated to compensate for other worn suspension components on your vehicle that might wear out your stock struts over time. If you are looking for reliability, durability, and performance, look no further than the KYB Excel-G!
A Perfect Replacement for your Vehicle!
Fitment: (Please see compatibility list)
2006-2011 Chevrolet HHR (LS & LT Models)(Will NOT fit the SS Models)
Type: Excel-G (GR-2)
Shocks Included: 4
Package Includes: 2 Front Struts & 2 Rear Shocks
Adjustable: No
Front Right Part # 339084Front Left Part # 339085Rear Right Part # 349043Rear Left Part # 349043
Note: Images May Not be Vehicle Specific. For Display Purposes Only.
If you do not need all four replacements as a set and only need the front pair, the rear pair or a single shock/strut replacement, we can sell those also. Please contact us.