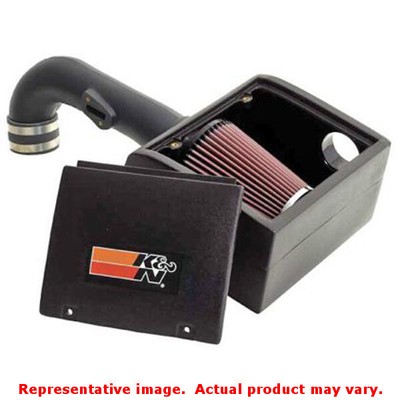 The seller's complete auction listing, and description of their auction is listed below! All Listings are provided by the item's seller, through eBay.com

eBay Store
Shipping
Returns
About Us
Contact Us
Add to Favorites
K&N 57-3056
FIPK Intake Kit
Images May Not be Item Specific. For Display Purposes Only.
FIPK Intake Kit
Your Price: $297.99
Product Details
Manufacturer
K&N
Part Number
57-3056
Material
Retail Price
Your Price
297.99
Country of Manufacture
Color
Ship Weight Lbs
8
Package Quantity
1
Product Notes
FIPK Intake Kit
Product Specs
Air Filter Color
Red
Air Filter Height
6.5 in (165 mm)
Air Filter Large End Diameter
5.375 in (137 mm)
Air Filter Material
Cotton Gauze
Air Filter Outlet Shape
Round
CARB EO Number
D-269-38
Clamp Material
Stainless Steel
Clamp Style
Regular
Clamps Included
3
Couplers Included
1
Estimated HorsePower Gain
9.33 HP @ 5325 RPM
Horse Power Increase
9 HP
Intake Pipe Color / Finish
Black
Intake Pipe Material
High-Density Polyethylene
Fitment
CHEVROLETYearModelSubModelCylindersLiterAspirationEng Desg.FuelNotes2006 - 2010HHRALLL42.4ALLALLALLCalifornia Air Resources Board Exempt: Yes; CARB EO: D-269-382010 - 2011HHRALLL42.2ALLALLALLCalifornia Air Resources Board Exempt: Yes; CARB EO: D-269-38
Shipping:
We are based on North Carolina.
We do not offer local pickup. All items must be shipped.
To best serve our customers, we ship from multiple US warehouses.
Sales Tax:
We are a North Carolina company and must charge sales tax to our North Carolina Customers.
International Customers:
Import duties, taxes, and charges are not included in the item price or shipping cost. These charges are the buyer's responsibility.
Please check with your country's customs office to determine what these additional costs will be prior to bidding or buying.
Below is a general manufacturer product group description.Please note the information below is not item specific. Item specifics are above in product details.
K&N Fuel Injection Performance Kits (FIPK's) are built for many different vehicles and represent a dramatic improvement over a K&N O/E replacement filter alone; they use only non-metallic rotationally molded tubes that can reduce air temperature and decrease intake sound over a metal tube. Restriction can exist BETWEEN an air filter and the engine reducing the benefit of a K&N Air Filter. The weakest link in the airflow "chain" robs a vehicle of its natural horsepower. Often that weak point is the factory air path leading to the Engine. K&N Fuel Injection Performance Kits (FIPK) virtually eliminate air path restriction by replacing the air filter and the entire air path to the engine. The aerodynamically engineered tube drives a massive amount of air into an engine, which translates into POWER.K&N Fuel Injection Performance Kits (FIPK) are truly state-of-the-art. K&N starts with the largest conical shaped high-flow air filter that can fit into the engine compartment while using factory holes and mounting points. This extra filter size provides even more airflow at lower restriction than a standard K&N O/E replacement filter that is limited to the size of the factory air box. The oversized air filter also captures and holds more dirt increasing the service life before a cleaning is required (up to 100,000 miles). When possible, the filter is isolated from high engine temperature by a heat shield designed to lower the temperature of the air entering the engine, which increases horsepower. Next the filter is attached to a rotationally molded tube made from interlaced High Density Polyethylene (HDPE). This process allows the tube to be precisely shaped to reduce turbulence and accelerate airflow into the engine. This is why some tubes have unique shapes that are specifically engineered for each application. Finally the tube is connected to the engine with adapters made from high strength materials such as silicon and reinforced nylon and ensures long life. Put all this together and you have the best high-flow intake system available today.FEATURESGuaranteed to Provide more HP and Increased AccelerationEngineered to Specific Vehicle DesignEasy to Install, Usually in 90 minutes or less!Lasts up to 100,000 Miles Before Service is Required (depending on driving conditions)Million Mile Limited WarrantyReplaces OEM Filter and Air BoxAir Filter is Washable and ReusableWorks with Original Equipment Manufacturer Computer SystemsDesigned to use Factory Holes & Mounting Points Whenever PossibleMost are CARB Exempt and street legal in all 50 US States