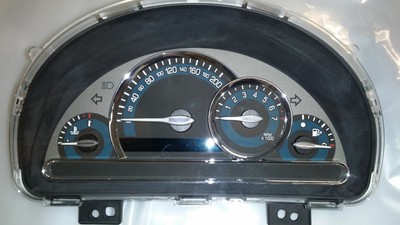 The seller's complete auction listing, and description of their auction is listed below! All Listings are provided by the item's seller, through eBay.com

For your consideration we are offering this brand new surplus OEM GM complete instrument cluster. There may be light scratches on the lens from handling & storage. Please contact your local dealer for part number compatibility before purchasing.
Product application and interchange...
2008 - 2010 Chevy HHR kilometer for export. YOU are responsible for compatibility. If you don't match the part number with yours, some features will not work.
By clicking the buy it now you agree to all the terms described on this page, so please read the entire item description below before purchasing...
Returns...
Returns for a refund are subject to a 20% restocking fee, shipping fee's are not refundable. Please be advised: If the product proves defective during the guarantee period, the customer shall be responsible for all expenses incurred for diagnosis, removal, packaging and return shipping. The guarantee is effective from the day upon receipt of the product till the ending term of the guarantee period. Digital Dash Solutions will not refund any incurred installation charges under any circumstances. digital-dash-solutions guarantees the product will be free from defects in materials and workmanship for the period advertised from the date of receipt with unlimited mileage. In the unlikely event of product failure you are covered with this guarantee. This guarantee covers naturally occurring failures only. Digital-Dash-Solutions recommends the Customer first utilize support with the product, product diagnostics, information contained via email or telephone support. If unsuccessful, to obtain service under this guarantee the customer must return the product for testing to determine of the defect before the expiration of the guarantee period. Customers will provide appropriate assistance to telephone support personnel or via email to resolve issues. Under no circumstances will Digital-Dash-Solutions replace the product until these terms have been met.
?TO THE EXTENT ALLOWED BY LOCAL LAW, EXCEPT FOR THE OBLIGATIONS SPECIFICALLY SET FORTH IN THIS GUARANTEE STATEMENT, IN NO EVENT SHALL DIGITAL-DASH-SOLUTIONS AND ITS EMPLOYEES BE LIABLE FOR ANY DIRECT OR INDIRECT, SPECIAL, INCIDENTAL OR CONSEQUENTIAL DAMAGES (INCLUDING LOSS OF PROFITS WHETHER BASED ON CONTRACT, TORT, OR ANY OTHER LEGAL THEORY AND IRRESPECTIVE OF WHETHER DIGITAL-DASH-SOLUTIONS OR THE EMPLOYEES HAVE ADVANCE NOTICE OF THE POSSIBILITY OF SUCH DAMAGES.