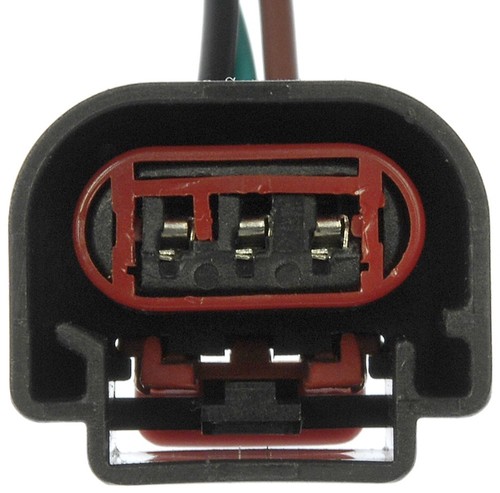 The seller's complete auction listing, and description of their auction is listed below! All Listings are provided by the item's seller, through eBay.com
eBay Parts Center Template 1Headlamp Socket-Headlight Socket Dorman 84785 SELLER & PAYMENT INFORMATION
Seller name : pctest123
See our other listings CUSTOMER SUPPORT
If you have questions about the product or your order please contact us via eBay Messages for assistance. Thank you.
Business Hours: 9-6 SHIPPING & HANDLING
To view our Shipping Policy click on the Shipping and Payments tab above.
PART AND FITMENT DETAILSBrand: DormanPart Number: 84785Item Condition: NewItem Description: Headlamp SocketManufacturer Brand Description: Headlight SocketQuantity Needed: 2;Item Specifics: UPC: 037495847858Key Search Words - 2000: Headlight, Connector, Headlights, Headlamp, Headlamps, Socket, Sockets, LightsApplication Summary - 2000: 2014-04Country of Origin (Primary): CNEmission Code : 1Harmonized Tariff Code (Schedule B): 8544300000Interchange Part Number: S-899, PT5604, 1453, PT1586, 88986266, 1P2085Interchange Part Number: S-899, PT5604, 1453, PT1586, 88986266, 1P2085Life Cycle Status Code: 2Life Cycle Status Description: Available to OrderNational Popularity Code : AOther Part Number: SC13, 5459C, 1802-520132Overall Length: 8.75 In.Package Contents: 1 PigtailProduct Description - Long - 80: Headlight Socket for H13/9008 BulbProduct Description - Short - 20: H13/9008 BULB SOCKETRefurbished Part: NRemanufactured Part: NSlang Description - 2000: Bulb Holder - HeadlightTerminal Design: Not ApplicableTerminal Gender: FemaleTerminal Material: PlasticWater Resistant: NoWire Pigtail Included: YesWire Quantity: 3
See Item Specifics section for additional specifications about this part. Vehicle Fitment Summary
To confirm that this part fits your vehicle, enter your vehicle's Year, Make, Model, Trim and Engine in the Compatibility Table. Also review the notes section in the compatibility chart for additional specifications about this part.
This part generally fits Chevrolet, Chrysler, Dodge, Ford, GMC, Hummer, Jeep, Kia, Lincoln, Mazda, Mercury, Mini, Mitsubishi, Nissan, Pontiac, Ram, Suzuki vehicles and includes models such as 1500, 2500, 3500, 4500, 5500, Aspen, Caliber, Camaro, Challenger, Compass, Cooper, Cooper Countryman, Cooper Paceman, Cruze, Dakota, Durango, E-150, E-250, E-350 Super Duty, E-450 Super Duty, Eclipse, Escape, Excursion, Expedition, Explorer, Explorer Sport Trac, F-150, F-250 Super Duty, F-350 Super Duty, F-450 Super Duty, F-550 Super Duty, Flex, Focus, Freestar, Freestyle, Grand Caravan, Grand Marquis, H3, H3T, HHR, Leaf, Liberty, Mariner, Mark LT, Monterey, Mountaineer, Mustang, Nitro, NV1500, NV200, NV2500, NV3500, Orlando, Pacifica, Patriot, Raider, Ram 1500, Ram 2500, Ram 3500, Sentra, Solstice, Soul, Spark, Spark EV, Torrent, Town & Country, Transit Connect, Tribute, Wrangler, XL-7, Yukon, Yukon XL 1500, Yukon XL 2500 with the trims of SLT Sport Utility 4-Door, SR Sedan 4-Door, 1SS Coupe 2-Door, i Sport Utility 4-Door, STX Extended Cab Pickup 3-Door, FX2 Extended Cab Pickup 4-Door, Max Eddie Bauer Sport Utility 4-Door, ST Sedan 4-Door, Base Mini Passenger Van 4-Door, Unlimited Rubicon Sport Utility 4-Door, XLT Crew Cab Pickup 4-Door, King Ranch Sport Utility 4-Door, Base Cutaway Van 2-Door, GS Sport Hatchback 2-Door, 2SS Coupe 2-Door, S Chili Hatchback 2-Door, ST Hatchback 2-Door, FX4 Crew Cab Pickup 4-Door, John Cooper Works ALL4 Hatchback 4-Door, Limited Edition Sport Utility 4-Door, XE SE Sedan 4-Door, Harley-Davidson Edition Extended Cab Pickup 4-Door, Elegance LT Wagon 4-Door, Spyder GS Convertible 2-Door, Sport Hatchback 4-Door, Tradesman Extended Cab Pickup 4-Door, ST Cab & Chassis 2-Door, John Cooper Works Coupe 2-Door, S Standard Cargo Van 3-Door, THE 60TH ANNIVERSARY EDITION Extended Cab Pickup 4-Door, Electric Mini Cargo Van 4-Door, Coupe S Coupe 2-Door, R/T Classic Coupe 2-Door, Limited Crew Cab Pickup 4-Door, GT Equipado Coupe 2-Door, Bullitt Coupe 2-Door, SLT Crew Cab Pickup 4-Door, Laramie Longhorn Crew Cab Pickup 4-Door, Base Extended Cargo Van 3-Door, Unlimited Sport Sport Utility 4-Door, Lariat Extended Cab Pickup 4-Door, ST Cab & Chassis - Crew Cab 4-Door, DOT Hatchback 4-Door, Base Motor Home - Stripped Chassis, SXT Mini Passenger Van 4-Door, SE-R Sedan 4-Door, Spyder SE Convertible 2-Door, Laramie Extended Crew Cab Pickup 4-Door, FX2 Crew Cab Pickup 4-Door, Premier Sport Utility 4-Door, Big Horn Crew Cab Pickup 4-Door, Sky Slider Sport Utility 4-Door, Cabela's Crew Cab Pickup 4-Door, Tradesman Standard Cab Pickup 2-Door, Roadster John Cooper Works Convertible 2-Door, SVT Raptor Crew Cab Pickup 4-Door, SLT Cab & Chassis - Long Conventional 2-Door, SES Coupe 2-Door, Lariat Cab & Chassis - Long Conventional 2-Door, Willys Wheeler Sport Utility 2-Door, LS Extended Cab Pickup 4-Door, SXT Cab & Chassis 2-Door, SRT-4 Hatchback 4-Door, LS Panel Wagon 2-Door, Eddie Bauer Max Sport Utility 4-Door, Limited Premium Sport Utility 4-Door, John Cooper Works GP Hatchback 2-Door, XLT Cab & Chassis 4-Door, SRT8 Coupe 2-Door, R/T Standard Cab Pickup 2-Door, ST Standard Cab Pickup 2-Door, TRX Standard Cab Pickup 2-Door, Boss 302 Coupe 2-Door, Rallye Redline Coupe 2-Door, Premier Mini Passenger Van 4-Door, Islander Sport Utility 2-Door, XL Cab & Chassis - Extended Cab 4-Door, SL Sedan 4-Door, SE Crew Cab Pickup 4-Door, GXP Coupe 2-Door, Base Convertible 2-Door, Touring Sport Utility 4-Door, LT Wagon 4-Door, SEL Wagon 4-Door, Jet Sport Utility 4-Door, XL Cab & Chassis 2-Door, Base Hatchback 4-Door, XLS Crew Cab Pickup 4-Door, S ALL4 Hatchback 2-Door, Platinum Crew Cab Pickup 4-Door, Laramie Longhorn Extended Cab Pickup 4-Door, Flotillera Standard Cab Pickup 2-Door, XL Cab & Chassis - Crew Cab 4-Door, Luxury Mini Passenger Van 4-Door, Laramie Crew Cab Pickup 4-Door, Rush Hatchback 4-Door, Titanium Sport Utility 4-Door, Championship Series Sport Utility 4-Door, XL Mini Cargo Van 4-Door, X Sport Utility 4-Door, SS Convertible 2-Door, Value Package Mini Passenger Van 4-Door, Lariat Crew Cab Pickup 4-Door, GT Coupe 2-Door, SS Coupe 2-Door, JLX Sport Utility 4-Door, SRT-10 Crew Cab Pickup 4-Door, LT Panel Wagon 2-Door, Limited Jet Sport Utility 4-Door, LS Sedan 4-Door, Spyder GT-P Convertible 2-Door, FX4 Standard Cab Pickup 2-Door, Lariat Limited Crew Cab Pickup 4-Door, S Mini Cargo Van 4-Door, SLT Plus Sport Utility 4-Door, Lariat Cab & Chassis 4-Door, Denali Sport Utility 4-Door, EL King Ranch Sport Utility 4-Door, Shelby GT500 Convertible 2-Door, SE-R Spec V Sedan 4-Door, Luxury Sedan 4-Door, XLS Sport Utility 4-Door, Emotion Sedan 4-Door, Express Hatchback 4-Door, Coupe Coupe 2-Door, Adventure Crew Cab Pickup 4-Door, SLT Sport Standard Cab Pickup 2-Door, Canada Value Package Hatchback 4-Door, LX Sport Utility 4-Door, LX Mini Passenger Van 4-Door, STX Standard Cab Pickup 2-Door, Unlimited Mountain Sport Utility 4-Door, Spyder GT Convertible 2-Door, XL Sport Utility 4-Door, XLT Standard Cab Pickup 2-Door, Outdoorsman Extended Crew Cab Pickup 4-Door, S Coupe 2-Door, Custom Sedan 4-Door, Base Standard Cargo Van 3-Door, North Edition Sport Utility 4-Door, GXP Sport Utility 4-Door, XLT Extended Passenger Van 3-Door, GT Convertible 2-Door, TRX4 Standard Cab Pickup 2-Door, SE Convertible 2-Door, SXT Plus Hatchback 4-Door, XL Crew Cab Pickup 4-Door, SES Sedan 4-Door, Limited Hybrid Sport Utility 4-Door, Heat Hatchback 4-Door, THE 60TH ANNIVERSARY EDITION Crew Cab Pickup 4-Door, S ALL4 Hatchback 4-Door, LS Crew Cab Pickup 4-Door, ST Cab & Chassis - Long Conventional 2-Door, GX Sport Utility 4-Door, Base Cab & Chassis - Long Conventional 2-Door, RS Hatchback 2-Door, LT Sport Utility 4-Door, Shelby GT Coupe 2-Door, S Clubman Wagon 4-Door, S Hatchback 2-Door, GT Base Convertible 2-Door, SE Hatchback 2-Door, Roadster Convertible 2-Door, S Sedan 4-Door, SLT Big Horn Standard Cab Pickup 2-Door, Adventurer Sport Utility 4-Door, Denali Hybrid Sport Utility 4-Door, Unlimited Altitude Sport Utility 4-Door, GXE Sport Sedan 4-Door, SEL Mini Passenger Van 4-Door, Base Sedan 4-Door, Sport Crew Cab Pickup 4-Door, SE Sedan 4-Door, SES Mini Passenger Van 4-Door, Alpha Crew Cab Pickup 4-Door, Ambiente Sedan 4-Door, XL Extended Passenger Van 3-Door, XL Standard Passenger Van 3-Door, SV Standard Passenger Van 3-Door, XTR Crew Cab Pickup 4-Door, Detonator Sport Utility 4-Door, SS Wagon 4-Door, STX Crew Cab Pickup 4-Door, LE Sedan 4-Door, SL Hatchback 4-Door, XLT Base Sport Utility 4-Door, Limited Plus Sport Utility 4-Door, XLT Cab & Chassis - Long Conventional 2-Door, SXT Extended Cab Pickup 4-Door, Express Extended Cab Pickup 4-Door, Base Coupe 2-Door, Eco Sedan 4-Door, Coupe John Cooper Works Coupe 2-Door, RT Coupe 2-Door, Max King Ranch Sport Utility 4-Door, Power Wagon Standard Cab Pickup 2-Door, Shelby GT Convertible 2-Door, XLT Cab & Chassis - Extended Cab 4-Door, 70th Anniversary Sport Utility 2-Door, Outdoorsman Crew Cab Pickup 4-Door, Laramie Cab & Chassis - Long Conventional 2-Door, GS Hatchback 2-Door, John Cooper Works Clubman Wagon 3-Door, FX2 Standard Cab Pickup 2-Door, GT Base Coupe 2-Door, SE Hatchback 4-Door, Roadster S Convertible 2-Door, Diesel Sedan 4-Door, Shelby GT500KR Coupe 2-Door, SE Sport Utility 4-Door, Cargo Hatchback 4-Door, Sport Cab & Chassis 4-Door, Mainstreet Hatchback 4-Door, Electric Mini Passenger Van 4-Door, SLT Premium Sport Utility 4-Door, Big Horn Extended Cab Pickup 4-Door, XL Standard Cab Pickup 2-Door, EL Limited Sport Utility 4-Door, Base Stripped Chassis, SL Standard Passenger Van 3-Door, S Clubman Wagon 3-Door, Sport Sport Utility 2-Door, SRT-10 Standard Cab Pickup 2-Door, Taxi Mini Passenger Van 4-Door, Base Cab & Chassis - Crew Cab 4-Door, Base Hatchback 2-Door, SLT Cab & Chassis 4-Door, LTZ Hatchback 4-Door, Edicion Especial Wagon 4-Door, Base Cab & Chassis - Extended Cab 4-Door, LS Coupe 2-Door, LTZ Sport Utility 4-Door, Hybrid Sport Utility 4-Door, SEL Sport Utility 4-Door, GXE Sedan 4-Door, SXT Extended Crew Cab Pickup 4-Door, TRX4 Crew Cab Pickup 4-Door, Plus Hatchback 4-Door, Lariat Cab & Chassis - Crew Cab 4-Door, John Cooper Works Convertible 2-Door, MTX Sport Utility 4-Door, Laramie Standard Cab Pickup 2-Door, DuroCross Extended Cab Pickup 4-Door, Max XL Sport Utility 4-Door, GT Sport Utility 4-Door, SLT Cab & Chassis - Crew Cab 4-Door, Outdoorsman Extended Cab Pickup 4-Door, STX Extended Cab Pickup 4-Door, Adventure Sport Utility 4-Door, Latitude Sport Utility 4-Door, TRX Extended Cab Pickup 4-Door, R/T Hatchback 4-Door, R/T Sport Utility 4-Door, Shelby GT500 Coupe 2-Door, John Cooper Works ALL4 Hatchback 2-Door, Unlimited Willys Wheeler Sport Utility 4-Door, SXT Plus Coupe 2-Door, Sport Extended Cab Pickup 4-Door, GS Sedan 4-Door, LT Convertible 2-Door, S Sport Utility 4-Door, Sport Cab & Chassis 2-Door, Eddie Bauer Sport Utility 4-Door, Alpha Sport Utility 4-Door, Heat Sport Utility 4-Door, EL Eddie Bauer Sport Utility 4-Door, Luxury Sport Utility 4-Door, Sahara Sport Utility 2-Door, XLT Mini Passenger Van 4-Door, TRX4 Extended Cab Pickup 4-Door, GT-P Hatchback 2-Door, XL Cab & Chassis 4-Door, GT SE Coupe 2-Door, SXT Premium Sport Utility 4-Door, S Hatchback 4-Door, SE Mini Passenger Van 4-Door, Tradesman HD Standard Cab Pickup 2-Door, XLT Cab & Chassis - Crew Cab 4-Door, Unlimited 70th Anniversary Sport Utility 4-Door, GT Hatchback 2-Door, 1LT Coupe 2-Door, SRT Coupe 2-Door, Express Crew Cab Pickup 4-Door, SLT Extended Crew Cab Pickup 4-Door, Unlimited Sport Utility 4-Door, Tradesman Crew Cab Pickup 4-Door, 2SS Convertible 2-Door, ZMX Hatchback 4-Door, XL Extended Cab Pickup 4-Door, Lariat Cab & Chassis - Extended Cab 4-Door, X Sport Utility 2-Door, Sport Sport Utility 4-Door, Base Cutaway 2-Door, FX4 Extended Cab Pickup 4-Door, ATX Sport Utility 4-Door, ST Sport Utility 4-Door, Limited Mini Passenger Van 4-Door, Cabela's Extended Cab Pickup 4-Door, ST Extended Cab Pickup 4-Door, Unlimited X Sport Utility 4-Door, LT Hatchback 4-Door, Lone Star Extended Cab Pickup 4-Door, Max Limited
Sport Utility 4-Door, LS Sport Utility 4-Door, Hemi Sport Standard Cab Pickup 2-Door, XL Extended Cab Pickup 3-Door, Laramie Cab & Chassis 4-Door, Premium Sedan 4-Door, GLS Sport Utility 4-Door, LS Hatchback 4-Door, TRX Crew Cab Pickup 4-Door, SXT Hatchback 4-Door, Base Mini Cargo Van 4-Door, XE Sedan 4-Door, LX Base Mini Passenger Van 4-Door, SXT Sport Utility 4-Door, SXT Crew Cab Pickup 4-Door, Tremor Standard Cab Pickup 2-Door, Latitude X Sport Utility 4-Door, Limited Wagon 4-Door, XLT Premium Mini Passenger Van 4-Door, Sport Standard Cab Pickup 2-Door, GS Sport Utility 4-Door, GXP Convertible 2-Door, Base Crew Cab Pickup 4-Door, SE Coupe 2-Door, Crew Crew Cab Pickup 4-Door, Laramie Cab & Chassis - Crew Cab 4-Door, TRX Extended Crew Cab Pickup 4-Door, SXT Premium Hatchback 4-Door, Elite Sedan 4-Door, Comfort LT Wagon 4-Door, Rubicon Sport Utility 2-Door, Base Stripped Chassis - Incomplete, SV Mini Cargo Van 4-Door, Express Standard Cab Pickup 2-Door, Limited Sport Utility 4-Door, Exclaim Hatchback 4-Door, Touring Equipada Sport Utility 4-Door, Byte Hatchback 4-Door, SE Plus Hatchback 4-Door, Unlimited Sahara Sport Utility 4-Door, XE SE Edicion Especial Sedan 4-Door, EL XLT Sport Utility 4-Door, S Standard Passenger Van 3-Door, FX4 Extended Cab Pickup 3-Door, ST Cab & Chassis 4-Door, Lariat Extended Cab Pickup 3-Door, Convenience Sport Utility 4-Door, X-S Sport Utility 2-Door, King Ranch Extended Cab Pickup 4-Door, SLT Cab & Chassis 2-Door, S Hot Chili Hatchback 2-Door, King Ranch Extended Cab Pickup 3-Door, LS Wagon 4-Door, Shock Sport Utility 4-Door, Base Mini Cargo Van 3-Door, XL Mini Passenger Van 4-Door, Clubman Wagon 3-Door, GL Sport Utility 4-Door, John Cooper Works Hatchback 4-Door, Uptown Hatchback 4-Door, XLT Extended Cab Pickup 4-Door, SXT Cab & Chassis 4-Door, GT Equipado Convertible 2-Door, John Cooper Works Hatchback 2-Door, ZL1 Convertible 2-Door, SE Wagon 4-Door, XLT Sport Utility 4-Door, Lariat Cab & Chassis 2-Door, Lone Star Crew Cab Pickup 4-Door, DuroCross Crew Cab Pickup 4-Door, XLT Cab & Chassis 2-Door, Funkmaster Flex Edition Sport Utility 4-Door, LX Hatchback 4-Door, XTR Extended Cab Pickup 4-Door, GT SE Convertible 2-Door, LT Coupe 2-Door, Spyder GS Sport Convertible 2-Door, SLT Standard Cab Pickup 2-Door, R/T Coupe 2-Door, Sport Sedan 4-Door, Touring Mini Passenger Van 4-Door, Laramie Cab & Chassis 2-Door, SVT Raptor Extended Cab Pickup 4-Door, Harley-Davidson Edition Crew Cab Pickup 4-Door, SEL Sedan 4-Door, SXT Coupe 2-Door, JX Sport Utility 4-Door, LT Sedan 4-Door, XLT Extended Cab Pickup 3-Door, XL Cab & Chassis - Long Conventional 2-Door, SS Panel Wagon 2-Door, C/V Mini Cargo Van 4-Door, Renegade Sport Utility 4-Door, LTZ Sedan 4-Door, Laramie Longhorn Extended Crew Cab Pickup 4-Door, SLE Sport Utility 4-Door, SX Hatchback 4-Door, Laramie Extended Cab Pickup 4-Door, LX Plus Mini Passenger Van 4-Door, Power Wagon Crew Cab Pickup 4-Door, THE 60TH ANNIVERSARY EDITION Standard Cab Pickup 2-Door, Premium Sport Utility 4-Door, S Clubman Hatchback 3-Door, ZL1 Coupe 2-Door, SLT Night Runner Sport Standard Cab Pickup 2-Door, XLT Mini Cargo Van 4-Door, Base Sport Utility 4-Door, EL XL Sport Utility 4-Door, S Convertible 2-Door, SLT Extended Cab Pickup 4-Door, ST Crew Cab Pickup 4-Door, SXT Standard Cab Pickup 2-Door, Outdoorsman Standard Cab Pickup 2-Door, King Ranch Crew Cab Pickup 4-Door, XLT Standard Passenger Van 3-Door, SV Hatchback 4-Door, SV Standard Cargo Van 3-Door, S Mini Passenger Van 4-Door, EX Hatchback 4-Door, North Sport Utility 4-Door, King Ranch Standard Cab Pickup 2-Door . The engine types may include 1.6L 1600CC l4 GAS SOHC Supercharged, 6.8L 415Cu. In. V10 GAS SOHC Naturally Aspirated, 6.7L 6651CC 406Cu. In. V8 DIESEL OHV Turbocharged, 6.4L 6424CC 392Cu. In. V8 GAS OHV Naturally Aspirated, 1.4L 1364CC 83Cu. In. l4 GAS DOHC Turbocharged, 1.6L 1598CC l4 GAS DOHC Turbocharged, 2.5L 2500CC l4 GAS DOHC Naturally Aspirated, 2.2L 2198CC 134Cu. In. l4 GAS DOHC Naturally Aspirated, 2.0L 1997CC 122Cu. In. l4 GAS DOHC Naturally Aspirated, 3.0L 2967CC 181Cu. In. V6 GAS DOHC Naturally Aspirated, 6.8L 6751CC 412Cu. In. V10 GAS OHV Naturally Aspirated, 4.2L 256Cu. In. V6 GAS OHV Naturally Aspirated, 1.8L 1796CC 110Cu. In. l4 GAS DOHC Naturally Aspirated, 2.0L 1998CC 122Cu. In. l4 GAS DOHC Turbocharged, 3.5L 3496CC 213Cu. In. V6 GAS DOHC Turbocharged, 2.0L 1999CC 122Cu. In. l4 GAS DOHC Naturally Aspirated, 6.2L 6162CC 376Cu. In. V8 GAS DOHC Naturally Aspirated, 3.7L 3727CC 227Cu. In. V6 GAS DOHC Naturally Aspirated, 5.7L 345Cu. In. V8 ELECTRIC/GAS OHV Naturally Aspirated, 3.6L 3604CC 220Cu. In. V6 GAS DOHC Naturally Aspirated, 3.0L 183Cu. In. V6 GAS DOHC Naturally Aspirated, 2.4L 2384CC 145Cu. In. l4 GAS DOHC Naturally Aspirated, 6.0L 5967CC 364Cu. In. V8 GAS OHV Naturally Aspirated, 4.7L 4701CC 287Cu. In. V8 GAS SOHC Naturally Aspirated, 3.8L 3828CC 230Cu. In. V6 GAS SOHC Naturally Aspirated, 5.3L 5328CC 325Cu. In. V8 FLEX OHV Naturally Aspirated, ELECTRIC, 4.7L 285Cu. In. V8 FLEX SOHC Naturally Aspirated, 3.7L 3653CC 223Cu. In. l5 GAS DOHC Naturally Aspirated, 6.2L 6210CC 379Cu. In. V8 FLEX SOHC Naturally Aspirated, 6.0L 5967CC 364Cu. In. V8 ELECTRIC/GAS OHV Naturally Aspirated, 3.7L 3726CC 227Cu. In. V6 LPG DOHC Naturally Aspirated, 4.0L 3954CC 241Cu. In. V6 GAS DOHC Naturally Aspirated, 2.2L 2189CC 134Cu. In. l4 GAS DOHC Naturally Aspirated, 3.3L 3301CC 201Cu. In. V6 GAS OHV Naturally Aspirated, 5.4L 330Cu. In. V8 GAS SOHC Naturally Aspirated, 4.6L 4601CC 281Cu. In. V8 GAS SOHC Naturally Aspirated, 5.4L 5409CC 330Cu. In. V8 GAS DOHC Supercharged, 4.0L 3952CC 241Cu. In. V6 GAS SOHC Naturally Aspirated, 1.5L 1499CC l3 GAS DOHC Turbocharged, 4.0L 4015CC 245Cu. In. V6 GAS SOHC Naturally Aspirated, 6.0L 363Cu. In. V8 DIESEL OHV Turbocharged, 5.4L 5409CC 330Cu. In. V8 GAS SOHC Naturally Aspirated, 3.8L 3778CC 231Cu. In. V6 GAS SOHC Naturally Aspirated, 1.6L 1598CC l4 GAS DOHC Naturally Aspirated, 6.7L 6700CC 409Cu. In. l6 DIESEL SOHC Turbocharged, 1.6L 1598CC 98Cu. In. l4 GAS SOHC Turbocharged, 4.0L 245Cu. In. V6 GAS SOHC Naturally Aspirated, 2.4L 2360CC 144Cu. In. l4 GAS DOHC Naturally Aspirated, 3.0L 2968CC 181Cu. In. V6 FLEX DOHC Naturally Aspirated, 3.6L 217Cu. In. V6 GAS DOHC Naturally Aspirated, 1.2L 1249CC 76Cu. In. l4 GAS DOHC Naturally Aspirated, 3.6L 3604CC 220Cu. In. V6 FLEX DOHC Naturally Aspirated, 2.0L 1989CC 121Cu. In. l4 GAS DOHC Naturally Aspirated, 2.4L 2394CC 146Cu. In. l4 GAS DOHC Naturally Aspirated, 3.4L 3350CC 204Cu. In. V6 GAS OHV Naturally Aspirated, 2.2L 2189CC 134Cu. In. l4 FLEX DOHC Naturally Aspirated, 6.2L 6199CC 378Cu. In. V8 GAS OHV Naturally Aspirated, 5.0L 5000CC 305Cu. In. V8 GAS DOHC Naturally Aspirated, 3.7L 3700CC 226Cu. In. V6 GAS DOHC Naturally Aspirated, 8.3L 8275CC 505Cu. In. V10 GAS OHV Naturally Aspirated, 6.0L 5967CC 364Cu. In. V8 FLEX OHV Naturally Aspirated, 6.2L 6162CC 376Cu. In. V8 GAS OHV Supercharged, 6.2L 6210CC 379Cu. In. V8 GAS SOHC Naturally Aspirated, 5.6L 5552CC 339Cu. In. V8 GAS DOHC Naturally Aspirated, 4.7L 285Cu. In. V8 GAS SOHC Naturally Aspirated, 6.0L 5967CC 364Cu. In. V8 ELECTRIC/FLEX OHV Naturally Aspirated, 3.6L 3564CC 217Cu. In. V6 GAS DOHC Naturally Aspirated, 3.7L 3726CC 227Cu. In. V6 FLEX DOHC Naturally Aspirated, 5.3L 5328CC 325Cu. In. V8 GAS OHV Naturally Aspirated, 3.8L 3778CC 231Cu. In. V6 GAS OHV Naturally Aspirated, 2.5L 2488CC 152Cu. In. l4 GAS DOHC Naturally Aspirated, 3.9L 238Cu. In. V6 GAS OHV Naturally Aspirated, 3.7L 3726CC 227Cu. In. V6 CNG DOHC Naturally Aspirated, 2.3L 140Cu. In. l4 GAS DOHC Naturally Aspirated, 6.2L 6162CC 376Cu. In. V8 GAS OHV Naturally Aspirated, 2.5L 2488CC 152Cu. In. l4 ELECTRIC/GAS DOHC Naturally Aspirated, 5.6L 5552CC V8 GAS DOHC Naturally Aspirated, 2.0L 1997CC l4 GAS DOHC Naturally Aspirated, 5.9L 359Cu. In. l6 DIESEL OHV Turbocharged, 5.0L 4951CC 302Cu. In. V8 FLEX DOHC Naturally Aspirated, 6.7L 6700CC 409Cu. In. V8 DIESEL OHV Turbocharged, 5.0L 4952CC 302Cu. In. V8 GAS DOHC Naturally Aspirated, 2.4L 2360CC 144Cu. In. l4 GAS DOHC Turbocharged, 4.6L 281Cu. In. V8 GAS SOHC Naturally Aspirated, 5.7L 5654CC 345Cu. In. V8 GAS OHV Naturally Aspirated, 2.0L 1998CC l4 GAS DOHC Turbocharged, 1.8L 1798CC 110Cu. In. l4 GAS DOHC Naturally Aspirated, 2.3L 140Cu. In. l4 ELECTRIC/GAS DOHC Naturally Aspirated, 3.7L 3726CC 227Cu. In. V6 GAS DOHC Naturally Aspirated, 2.4L 2378CC l4 GAS SOHC Naturally Aspirated, 3.4L 207Cu. In. V6 GAS OHV Naturally Aspirated, 1.8L 1796CC 110Cu. In. l4 FLEX DOHC Naturally Aspirated, 3.8L 3828CC 234Cu. In. V6 GAS SOHC Naturally Aspirated, 3.0L 2968CC 181Cu. In. V6 GAS DOHC Naturally Aspirated, 2.0L 1998CC 122Cu. In. l4 GAS DOHC Naturally Aspirated, 6.1L 6059CC 370Cu. In. V8 GAS OHV Naturally Aspirated, 4.8L 294Cu. In. V8 GAS OHV Naturally Aspirated, 5.7L 345Cu. In. V8 GAS OHV Naturally Aspirated, 2.5L 2521CC 154Cu. In. l5 GAS DOHC Turbocharged, 6.8L 415Cu. In. V10 LPG SOHC Naturally Aspirated, 4.0L 3954CC V6 GAS DOHC Naturally Aspirated, 6.4L 391Cu. In. V8 DIESEL OHV Turbocharged, 5.7L 345Cu. In. V8 BI-FUEL OHV Naturally Aspirated, 1.6L 1600CC l4 GAS SOHC Naturally Aspirated, 1.6L 1598CC 98Cu. In. l4 GAS DOHC Turbocharged, 5.4L 330Cu. In. V8 LPG SOHC Naturally Aspirated, 5.0L 4951CC 302Cu. In. V8 GAS DOHC Naturally Aspirated, 1.8L 1769CC 108Cu. In. l4 GAS DOHC Naturally Aspirated, 3.7L 3731CC 228Cu. In. V6 GAS DOHC Naturally Aspirated, 1.8L 1809CC l4 GAS DOHC Naturally Aspirated, 2.5L 2522CC 154Cu. In. l5 GAS DOHC Turbocharged, 1.2L 1206CC 74Cu. In. l4 GAS DOHC Naturally Aspirated, 6.7L 6700CC 409Cu. In. V8 DIESEL SOHC Turbocharged, 3.6L 3564CC V6 GAS DOHC Naturally Aspirated, 2.5L 2500CC 153Cu. In. l5 GAS DOHC Turbocharged, 2.0L 121Cu. In. l4 GAS DOHC Naturally Aspirated, 2.4L 145Cu. In. l4 FLEX DOHC Naturally Aspirated, 6.4L 6400CC 391Cu. In. V8 DIESEL SOHC Turbocharged, 4.6L 281Cu. In. V8 FLEX SOHC Naturally Aspirated, 3.5L 3496CC 213Cu. In. V6 GAS DOHC Naturally Aspirated, 3.2L 3197CC 195Cu. In. V6 GAS DOHC Naturally Aspirated, 3.5L 3497CC 215Cu. In. V6 G
AS SOHC Naturally Aspirated, 2.0L 1956CC 119Cu. In. l4 DIESEL DOHC Turbocharged, 6.8L 415Cu. In. V10 CNG SOHC Naturally Aspirated, 5.0L 4951CC 302Cu. In. V8 GAS SOHC Naturally Aspirated, 3.5L 3460CC 211Cu. In. l5 GAS DOHC Naturally Aspirated, 3.3L 3301CC 201Cu. In. V6 FLEX OHV Naturally Aspirated, 1.6L 1591CC l4 GAS DOHC Naturally Aspirated, 3.8L 3778CC 231Cu. In. V6 GAS Naturally Aspirated, 3.7L 226Cu. In. V6 GAS SOHC Naturally Aspirated, 3.7L 3700CC 226Cu. In. V6 GAS SOHC Naturally Aspirated, 5.4L 330Cu. In. V8 CNG SOHC Naturally Aspirated, 6.2L 6162CC 376Cu. In. V8 FLEX OHV Naturally Aspirated, 3.7L 3701CC 226Cu. In. V6 GAS SOHC Naturally Aspirated, 5.4L 5408CC 330Cu. In. V8 GAS SOHC Naturally Aspirated, 4.2L 4200CC 256Cu. In. V6 GAS OHV Naturally Aspirated, 1.8L 1769CC l4 GAS DOHC Naturally Aspirated, 2.4L 145Cu. In. l4 GAS DOHC Naturally Aspirated, 3.8L 230Cu. In. V6 GAS OHV Naturally Aspirated, 3.7L 3654CC 223Cu. In. l5 GAS DOHC Naturally Aspirated, 5.4L 330Cu. In. V8 FLEX SOHC Naturally Aspirated, 6.7L 408Cu. In. l6 DIESEL OHV Turbocharged. This part fits vehicles made in the following years 2004, 2005, 2006, 2007, 2008, 2009, 2010, 2011, 2012, 2013, 2014.
To confirm that this part fits your vehicle, enter your vehicle's Year, Make, Model, Trim and Engine in the Compatibility Table. Also review the notes section in the compatibility chart for additional specifications about this part. Interchange Part Numbers
This item may interchange to the following part numbers from other brands. This is provided for reference only and does not guarantee that the part your are buying is identical to the part numbers from the brands listed below. To confirm that this part fits your vehicle, enter your vehicle's Year, Make, Model, Trim and Engine in the Compatibility Table.Brands: ACDELCO, ACDELCO GM ORIGINAL EQUIPMENT, ACDELCO GM ORIGINAL EQUIPMENT CANADA, AI/BWD AUTOMOTIVE, AIRTEX AUTOMOTIVE DIVISION, AUTOZONE/BLUE STREAK, AUTOZONE/TRIDON, BWD AUTOMOTIVE, NOVITA FLASHERS, PARTS MASTER/TRIDON FLASHERS, PICO, STANDARD MOTOR PRODUCTS, WELLSPart Numbers: 1453, 1802-520132, 1P2085, 5459C, 88986266, PT1586, PT5604, S-899, SC13 ABOUT THE SELLER
****PLEASE MESSAGE TO VERIFY THE PART FITS YOUR VEHICLE BEFORE PURCHASE!**** PLEASE MESSAGE TO VERIFY THE PART FITS YOUR VEHICLE BEFORE PURCHASE!****
We can only be reached through ebay messaging. We do not offer phone support at this time!
All photos and descriptions are provided by WHI an eBay company. We are not responsible for typographical errors in pricing, description, or fit. If there is an error with the listing of a product we will contact you within 24 hours and refund your money within 48.
Ebays "estimated" shipping quote is truly estimated and does not accurately reflect the 24 hour order handling time, regional/holiday traffic, and business hours of operation.
Notice: We reserve the right to substitute one brand for another to assure the best fit and performance. This does not apply to premium brands such as ACDelco, Motorcraft, AU7, Denso etc. We drop ship most Auto 7, Beck Arnley, Denso, and GPD.
If you have a problem with an order, part, or shipping then please contact us before posting a negative response. We will make sure your satisfied.
RETURN POLICY
To view our Return Policy click on the Shipping and Payments tab above.
WARRANTY
No Warranty
Portions of the part information on this page have been provided by WHI Solutions, Inc. All rights reserved.