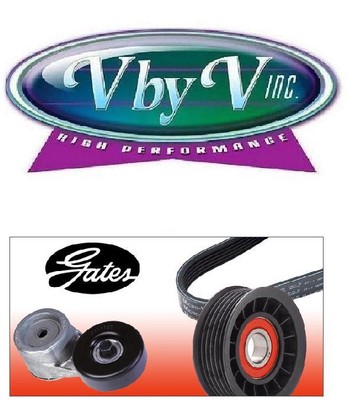 The seller's complete auction listing, and description of their auction is listed below! All Listings are provided by the item's seller, through eBay.com

Belt Tensioner Pulley, Drive Belt Idler Pulley
Product ID
78081077
Part #
38177
Product Description
38177 DRIVEALIGN AUTO TNSNR
UPC 072053777666
Category Hierarchy
Product Images
Product Features
Application Category Name Description Gates® is a global leader in Original Equipment (OE) System Design. With a full line of over 500 tensioners globally, you can count on Gates to supply premium quality DriveAlign® Automatic Belt Tensioners. Gates ensures that every tensioner they manufacture is built to rigid tolerances and specifications that guarantee OE fit, form and function. Features Advantages Manufactured using the same technology as Original Equipment Manufacturer (OEM) part, assuring a factory match. Torsional round spring design provides consistent tension and does not allow contamination. Full line coverage for Import, Domestic and Heavy-Duty applications. Looks, fits and functions just like the OE. Comprehensive line includes parts to fit cars, vans, SUV's and light trucks. Patented vibration damping system improves tensioners, belts and accessory life. Belt / Sprocket Specifications Width (mm) 27 Construction Material Steel Packaging Contents Tensioner Assy. Customer Pack 1.0 Import or Domestic Import/Domestic Standard Pack 1 Product Attributes Contact Surface Smooth/Backside Instruction Sheet Number 98-0017 (General Instructions) Number of Pulleys 1 Pulley 1 Flanged No Specifications Bearing Bore Inside Diameter 1 (mm) 17 Outside Diameter (mm) 82 Weight Weight (Lbs.) 1.68
This product replaces the following productsProduct IDProduct Name 78083077 38177 DRIVEALIGN AUTO TEN CQBR
Customer Service
Please contact us at 1-541-665-0695 or via email using the "Ask Seller a Question" link from this listing.
Emails are normally answered within 24 hours, not including weekends or holidays.
Serving Oregon for over 22-Years
Order This Item Monday-Friday & we will ship: Guaranteed Service!!!!!!!!!!!!!!
No Shipping On Holiday or Weekends
WE HAVE NO SALES TAX IN OREGON!!!!!!!!!!!!!!!!!!