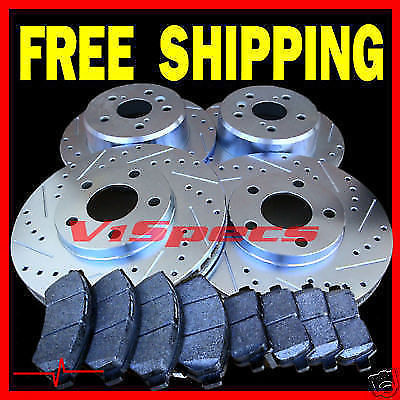 The seller's complete auction listing, and description of their auction is listed below! All Listings are provided by the item's seller, through eBay.com

CHEVY HHR SS 2.0L Supercharged Rear Disc Brakes 08 09
SS 2.0L Supercharged Rear Disc Brakes (excluding: Brembo Front Caliper models)
Please specify your vehicle within the given item's title description during payment in PayPal message box.
Item Includes:
2 Front & 2 Rear Cross Drilled/Slotted Silver Zinc-Plated Rotors
2 Front & 2 Rear Sets of Metallic Brake Pads
(Image is only for reference, actual rotors may vary according to vehicles)
Products' Description:
Our rotors are casted in a facility certified with ISO-9002 / QS-9000 / VDA 6.1. Cross drill/slot rotors is an ideal upgrade over OE brakes. Its purpose is to eliminate heat and to optimize braking power for all driving conditions. These performance brakes will be a great improvement for daily drivers. All specs are made precisely to replace OE parts. No modifications are required. All parts included in this item are brand new. Rotors are ready to install once received. Bedding is implied for all new brakes to maximize their performance. All installations are recommended to be done by professionals.

Cross Drilled was design to optimize air circulation, and help dissipate extreme heat build up from the friction that brake pads generate. This process is engineer to help the brake rotors operate at 150-200 degree cooler then OE brakes. The cross drill holes are chamfered to enhance the structural integrity by dispersing the stress evenly to prevent fracture.
Slotted was design to remove debris and heated gas trap between the surface friction of the brake pads and rotors, while providing additional griping power to the brakes. Our rounded slots are mill with equal depth on both end of the slot to provide a consistent performance throughout the life of the rotors.
Zinc Plating is a chemical process to prevent oxidation of the protected metal by forming a barrier. It's a series of process that involved electrons to form a non-ionic coating between Zinc-oxide and the rotors. Zinc-oxide is a fine white dust that does not cause a breakdown of the substrate's surface integrity as it is formed. Furthermore, silver Zinc-plating enhances the cosmetic of the vehicle.