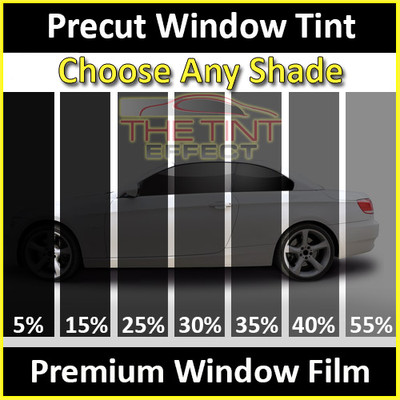 The seller's complete auction listing, and description of their auction is listed below! All Listings are provided by the item's seller, through eBay.com

Untitled Document
Full Car Precut Premium Window Tint Kit with a Lifetime Film Warranty
(Fits: Chevrolet SUV & Vans)
(Use Ebay's Compatibility checker (above) to verify the availability of your vehicle. Ebay's compatibility checker does not pass the vehicle details to us. Please make sure you add a note with your Paypal payment confirming your vehicle details and shade request at checkout.)
Precision PreCut Premium grade automotive window film for all windows shown in the kit below:
Photo for vehicle reference Only
Full car tint kit
About The Tint Effect and our Precut Kits:
When you buy precut kits from The Tint Effect you can rest assured that you are buying professional series precuts made from high quality USA grade film that will fit precisely. All of our precut patterns are verified by our in-house certified installers so we guarantee the fit will be precise. When you buy precuts from us you know that you are buying from a company that knows the product they are selling and will stand behind it 100%. You can search our Ebay store. for all available vehicles models, kit options as well as all available film choices. If you have any questions or you are having trouble locating the kit you need for your project then please contact us.
About our software: The software program we use to cut your kit has been around for nearly two decades. By now, every car model in our program has been cut, verified, and installed countless times by professional window tint installers all across the country. We guarantee that you will NOT have any problems with the fit with our precuts, when installed properly.
Premium Film Features:
High Quality Thick Film
Blocks up to 99% of UV Rays; protection from the sun's ultraviolet rays.
Non Metalized; won't interfere with electronics.
Total Solar Energy Rejected; Rejects up to 45% of solar energy which stabilizes vehicle temperature.
SPF Protection; up to 680.
Reduces Glare; Reduces glare by up to 93% allowing you to see better.
Made in the USA
Written lifetime warranty card
Color; Black
Available Shades; 5%, 15%, 25%, 30%, 35%, 40% and 55%
Unbeatable Limited Lifetime Warranty
The Tint Effect backs our Precuts with a limited
lifetime warranty should your window film need replacing from
cracking, bubbling, delaminating, & blistering.
How to Order:
Before purchasing this item please verify that this is the correct kit for your exact vehicle. Check that this listing matches the exact year, make and model of your vehicle including, coupe, sedan, convertible, hatchback, etc. *On trucks, make sure the kit is for the correct cab size. If you need any help finding your correct listing for your vehicle then please contact us prior to purchasing.
Make sure this kit includes precut window tint for all the windows you need. We have different Ebay listings available for front window tint kits, rear car tint kits, full car tint kits, visors only kits, etc.
Use the Buy it Now.
Pay for the listing. (see #5 below)
Very Important! - We can't process your order without confirming the following information!
During checkout in your PayPal payment please add a "message to seller" or email us to confirm the following information.
Please Confirm...
The exact Year, Make and Model of your vehicle and the vehicle's type: Coupe, Hatchback, Sedan or Convertible. If you are buying a kit for a truck then we will need to know the cab size and the rear window type: solid non-sliding, three, or four piece window, and if the slider is a power or manual.
The tint shade(s) desired on each window. Please note: This film is only available in four shades; 5%, 15%, 30% and 45%.
Sample message that includes all the details we need for a Full Car Kit: "My car is a 2016 VW Jetta Sedan. I would like 45% film for the Front doors, 5% film for the back doors, and 5% film for the rear windshield."
Sample message for a truck that includes all the details we need for a Full Truck Kit: "My truck is a 2015 Ford F-250, Crew Cab, with a 3 piece power rear windshield. I would like 45% film for the front doors, 15% film for the rear doors, and 15% film for the rear windshield."
*Most automotive windows have a factory tint (Usually between 70%-78%), your final VLT (Visual Light Transmission) will be less than the VLT of the tint
you
are purchasing.
For Example; if you put 45% on a window that is factory tinted at 71% you will end up with approximately 36% VLT.
*Some shades are not legal in some states and may not pass inspections.
Please contact your local officials for window tint laws applicable to your vehicle in your state.
By purchasing this window film kit you agree to use this film in accordance with your state laws. The Tint Effect and the window film
manufacturer are not responsible for any losses and/or damages caused due to the illegal installation of this film
After we have received your cleared payment and the vehicle details confirmation message from you, then we will cut your tint and ship it to you. After it ships you will receive the tracking information via email or you can check your My Ebay account for the tracking number.
Your precuts will arrive! We hope you enjoy your Precuts from The Tint Effect! Please contact us with any questions or concerns.
Why Buy from The Tint Effect
We are a full service certified automotive tint shop. You are buying professional series precut kit from a company that uses them everyday. Since we actually use our product you know that it is top quality and it will fit properly. Our knowledgeable, certified installers can help with any questions you may have.
Our Precuts are made with high quality film that is made in the U.S.A. All of our precut kits are 100% USA made from high quality film. We guarantee they will hold up longer with our written warranty..
Our precut tint is computer cut to exact specifications: Since the tint is precut to fit your car's specifications installation is easy, there is NO trimming.
We sell only top quality precuts: Other companies will sell you less quality film because it has better profit margins, we would rather sell you a better film!
We stock all of our film: Since we stock it your order will ship as soon as we receive your cleared payment and you have messaged us about your cars details.
The Tint Effect written warranty: We don't just say we will warranty the tint. We will provide a warranty card so you can rest assured that you're covered.
First Class Customer Service: Please feel free to contact us during business hours with any questions or concerns.
Mix and Match:
Mix and match up to two different shades of tint per order for absolutely FREE
30 Day Return Policy: Return your precut for up to 30 days. Returns are accepted on product in original new condition in the original packaging only.
*Discount Replacement Precut Windows: We all make mistakes... Sometimes a precut window installation doesn't go as planned and you find yourself needing a replacement pre-cut piece. If that happens to you then please call or email us and we will arrange a replacement precut for you at a discounted price. *(Must have previously bought a Precut Tint Kit from us)
Q & A - Answers to Common Questions
How Long does your precuts last?
When installed properly will last the lifetime of the vehicle.
Does your kit come with instructions?
Yes, we provide detailed written instructions. If you have not installed window film before then we also recommend learning from some of the 1000's of window tint instructional videos on YouTube.
There are cheap plastic tools on Ebay. Are they ok to use with your kits?
No. Please do not use the cheap plastic tools. Low quality plastic tools will have burrs on them that will scratch the film. We recommend a rubber squeegee to avoid scratching the film.
I just installed my window film and the windows appear hazy?
After installation, there may be a hazy appearance. This condition is temporary, caused by the moisture used in applying the film. After the moisture dries, the hazy condition will disappear.
How long does it take for the film to cure?
We suggest allowing thirty days for the film to fully cure. During this curing process, it is normal to have small water bubbles and/or a hazy appearance, these will disappear as the film dries. Depending upon the film type and weather conditions, drying may take as much as 30 or even up to 45 days, or as little as a few days. Once dried, your window film will look great and perform for many years to come.
How do I clean my window film?
After the thirty (30) days curing process, you may clean your film using a soft, lint-free cloth or towel using an Ammonia free window cleaning solution. You may also use a squeegee to clean the films. Abrasive type cleaning agents and bristle brushes which would scratch the film must NOT be used.
Who do I contact if I have a warranty claim?
In the rare event you may need to file a claim. Please contact us (The Tint Effect)
What does the warranty cover?
The Tint Effect warranty backs our precuts with a limited
lifetime warranty. Rest assured that you are covered should your window film need replacing from
delaminating from the glass, cracking, bubbling, peeling, blistering, NOT caused by improper installation.
Can The Tint Effect install it for me?
Yes, The Tint Effect is a Dealer/Installer, if you are in Utah please contact us for a professional window film installation quote.
Are your Precuts Preshrunk?
No, it is impossible for us or anyone to properly pre-shrink kits for sale online. In order to do so we would have to have access to every car ever made to shrink the kits on before we ship them.
Do I need to shrink the tint before installation
It all depends on the vehicle and the curvature glass. If the glass is flat like on some full size trucks then you will not need to shrink it but if the glass has a bow or curvature in it then some shrinking may be needed.
Should I buy your precuts to take to a local shop for installation?
No, You will not save any money buying the film online and asking a shop to install it for you.
*International customers - (Outside the United States)*
Please check with your countries customs agency before buying and importing this item. Your country may charge you a
VAT (Value added tax) or import duty when the package is delivered to you.