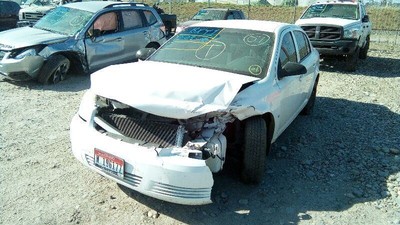 6 Month Warranty, Quality Tested Part, Fast Shipping
The seller's complete auction listing, and description of their auction is listed below! All Listings are provided by the item's seller, through eBay.com

Welcome to our eBay Store!
Driver Left Front Spindle/Knuckle Fits 06-11 HHR 5233995
Description
This ad is for a quality spindle or Knuckle . R= right passenger side. L= left drivers side. If the hub is pressed in to the Knuckle then it is included. If it bolts on it is not included and listed under Hubs. If the Spindle unbolts from the Knuckle they are sold separately, PLEASE read fitment areas and if you have any questions, please message us thru ebay.
Donor Vehicle
Model:
COBALT
Year:
2007
Mileage:
114000 (0 = not available or unknown)
Stock Number:
BXY1
Store Number:
1
Part Detail
Part Grade:
A
Part Category:
Y
Part Placement:
Driver/Left
Notes:
This part will fit these makes and models with these options
COBALT 05-07 L.HHR 08-10 w/o active brake control; L.HHR 06-07 L.HHR 11 L.PURSUIT 05-06 L.G5 07-10 L.COBALT 08-10 exc. SS; L.ION 03-07 L.
WARRANTY / GUARANTEE
We have gone to great lengths to present these items in their actual condition. 
We will be happy to go over every detail with you.  
We want you to be satisfied and will make every effort to achieve this goal.  
Most our items have a 6 month warranty. We do not warranty Installation or other labor costs.
30 day returns on unused items. Prepaid to us.
SHIPPING NOTES ABOUT US HELP
Please see eBay's shipping tab above.
Our eBay dept is open Monday - Friday 8am-5pm P.S.T. 
Please use Ebay Messaging to contact us.
Our mailing address is: 
Spalding Auto Parts Inc.
Attn: Online Sales Dept.
10708 Knox Ave. 
Spokane Valley, Wa. 99206 
Our Ebay Department is open 8 am to 5 pm Pacific time. Monday through Friday.
        We want you to receive the proper part. In the Automotive world this can be quite a
         task! If you type in your information into the compatibility table it will help greatly to
         make sure you get the right part. Or.
Please contact us just to be sure you receive the proper part you need.
We will be Happy to Help. Use the contact information just below.