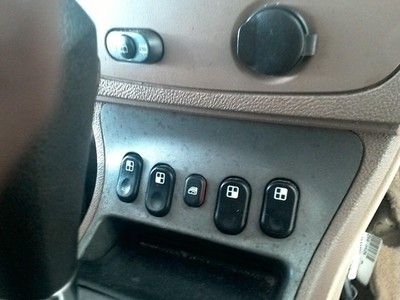 The seller's complete auction listing, and description of their auction is listed below! All Listings are provided by the item's seller, through eBay.com

Driver Front Door Switch Driver's Window Fits 06-08 HHR 407932
Part Description
Part Information
This part was removed from a 2008 HHR . This part has been fully tested while installed and will go through our industry leading quality control inspection before shipping. This part is backed by our 30 Day - no questions asked money back guarantee at no additional charge.
If you have any questions about this part, or any other parts from this vehicle, please click HERE to send us a message. Please include stock number 007172 in your message so we know which vehicle you are asking about. We answer all questions promptly during regular business hours.
Part Notes
Notes:
06-08 DRIVER S WINDOW, EXC. PANEL T
Donor Vehicle
Model:
HHR
Year:
2008
Mileage:
81000 (0 = Unknown)
Stock Number:
007172
SEE MORE HHR PARTS    SEE ALL PARTS FROM THIS CAR
Part Fitment Information
This part will fit these makes and models with these options. If you do not see your vehicle in this list, please click HERE to send us a message so before buying so we can verify if it will fit your vehicle.
HHR 06-08 Driver's; window, exc. panel truck
Our Promise
Our Promise is that you are completely satisfied with every part you buy from Cocoa Auto Salvage
This part is covered by our 30 Day Money Back Guarantee. If you have a problem with the part, changed your mind or the part does not fit, simply let us know. You have 30 Days from the purchase date to return it for a full refund. Please use the eBay return center for all returns. If you need help with returning an item, simply send us a message. We are here to help.
About Cocoa Auto Salvage
Cocoa Auto Salvage is committed to providing high quality recycled parts. We have an industry leading inventory and quality control process. You can count on your parts arriving promptly and in the condition that you are expecting. Since we are located in the south, you can expect rust free southern sheet metal and high quality mechanical parts.
Cocoa Auto Salvage is part of a group in the southeast called the Recyclers Cross Dock. Recyclers Cross Dock is a group of top automotive recyclers in the southeast. If you need a part that we do not have in stock, we can find it from our network of some of the best recyclers in the country. Please feel free to send us a list of parts that you need to get your car back on the road.
Shipping Information
All orders placed by 10:00am EST will be shipped out by the next day at the latest.
This part will ship with UPS or USPS with live tracking information. You will receive an email with tracking information as soon as your part ships. Please allow 1-5 business days for your part to arrive.
If you need your part faster, we do have expedited shipping options available for an additional charge. Please contact us for a shipping quote.