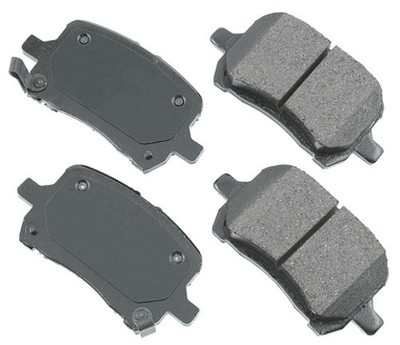 The seller's complete auction listing, and description of their auction is listed below! All Listings are provided by the item's seller, through eBay.com
eBay Parts Center Template 1Disc Brake Pad Set-ProACT Ultra Premium Ceramic Pads Front AKEBONO ACT1028 SELLER & PAYMENT INFORMATION
Seller name : autopartsway_com
See our other listings CUSTOMER SUPPORT
If you have questions about the product or your order please contact us via eBay Messages for assistance. Thank you.
Business Hours: 9 am to 5 p.m. EST, MON to FRI SHIPPING & HANDLINGShipping Service: Please refer to shipping section
Shipping Cost: Please refer to shipping section
Order Processing Time: 1 business day PART AND FITMENT DETAILSBrand: AkebonoPart Number: ACT1028Item Condition: NewItem Description: Disc Brake Pad SetManufacturer Brand Description: ProACT Ultra Premium Ceramic PadsQuantity Needed: 1;Position: FrontItem Specifics: UPC: 821726002556Application Summary - 2000: Chevrolet Cobalt 2007-2005, HHR 2010-2008, Malibu 2005-2004, Pontiac G5 2007, G6 2005, Solstice 2009-2006, Saturn Ion 2007-2004, Sky 2009-2007Key Search Words - 2000: Ceramic, Low Dust, No Squeaks, No Squeals, High Mu, Front Disc Brake Pads, D1028Marketing Description - 2000: Akebono Brake Corporation, the originators of ceramic brake technology and the original equipment brand of choice installed, in-total on more than 270 models. North America's leading supplier of advanced brake technology; is a leader in advanced brake and friction material development and production, with a focus on noise, vibration and harshness (NVH) analysis and control. The Akebono Group operates technical/R&D centers in Japan, the United States and France, with many wholly owned or affiliated manufacturing facilities worldwide. For more information, visit www.akebonobrakes.com.Product Description - Extended 240: ProACT Ultra-Premium Disc Brake Pads use OE-validated, application-specific, ceramic formulations designed using; precision-cut pressure plates, scientifically engineered chamfers and slots for optimal braking performance and NVH control.Product Description - Long - 80: Akebono ProACT Ultra Premium Ceramic Disc Brake Pad KitCountry of Origin (Primary): USEmission Code : 1Harmonized Tariff Code (HTS): 8708305040Harmonized Tariff Code (Schedule B): 8708300010Interchange Part Number: 14D1028CH, 17D1028CH, AXCD1028, EHT1028H, AXMD1028Life Cycle Status Code: 2Life Cycle Status Description: Available to OrderMaximum Cases per Pallet Layer: 8NAFTA Preference Criterion Code: BNational Popularity Code : CNational Popularity Description: Next 15% of Product Group Sales ValueOther Part Number: MGD1028CH, SGD1028C, 1AMV101028, 701-1028, P10030NPallet Layer Maximum: 4Product Description - Invoice - 40: Akebono ACT1028 Disc Brake Pad KitProduct Description - Short - 20: Disc Brake Pad KitRemanufactured Part: N
See Item Specifics section for additional specifications about this part. Vehicle Fitment Summary
To confirm that this part fits your vehicle, enter your vehicle's Year, Make, Model, Trim and Engine in the Compatibility Table. Also review the notes section in the compatibility chart for additional specifications about this part.
This part generally fits Chevrolet, Pontiac, Saturn vehicles and includes models such as Cobalt, G5, G6, HHR, Ion, Malibu, Sky, Solstice with the trims of Base Convertible 2-Door, Base Coupe 2-Door, Base Sedan 4-Door, GT Convertible 2-Door, GT Coupe 2-Door, GT Sedan 4-Door, GXP Convertible 2-Door, GXP Coupe 2-Door, LS Sedan 4-Door, LT Sedan 4-Door, Maxx Hatchback 4-Door, Maxx LS Hatchback 4-Door, Maxx LT Hatchback 4-Door, Red Line Convertible 2-Door, Red Line Coupe 4-Door, SE Convertible 2-Door, SS Coupe 2-Door, SS Panel Wagon 2-Door, SS Sedan 4-Door, SS Wagon 4-Door . The engine types may include 2.0L 122Cu. In. l4 GAS DOHC Supercharged, 2.0L 1998CC 122Cu. In. l4 GAS DOHC Turbocharged, 2.2L 2198CC 134Cu. In. l4 GAS DOHC Naturally Aspirated, 2.4L 145Cu. In. l4 GAS DOHC Naturally Aspirated, 2.4L 2384CC 145Cu. In. l4 GAS DOHC Naturally Aspirated, 2.4L 2394CC 146Cu. In. l4 GAS DOHC Naturally Aspirated, 3.5L 211Cu. In. V6 GAS OHV Naturally Aspirated, 3.5L 213Cu. In. V6 GAS OHV Naturally Aspirated, 3.5L 3498CC 213Cu. In. V6 GAS OHV Naturally Aspirated. This part fits vehicles made in the following years 2004, 2005, 2006, 2007, 2008, 2009, 2010.
To confirm that this part fits your vehicle, enter your vehicle's Year, Make, Model, Trim and Engine in the Compatibility Table. Also review the notes section in the compatibility chart for additional specifications about this part. Interchange Part Numbers
This item may interchange to the following part numbers from other brands. This is provided for reference only and does not guarantee that the part your are buying is identical to the part numbers from the brands listed below. To confirm that this part fits your vehicle, enter your vehicle's Year, Make, Model, Trim and Engine in the Compatibility Table.Brands: ACDELCO, ACDELCO ADVANTAGE, ACDELCO PROFESSIONAL BRAKES CANADA, AIMCO, AMS AUTOMOTIVE, ATE/PREMIUMONE, AUTO EXTRA FRICTION US, AUTOPART INTERNATIONAL, AUTOZONE/ BRAKEWARE-BENDIX, AUTOZONE/AMS, AUTOZONE/RAYBESTOS, BENDIX, BLACK LABEL, CARQUEST, CARQUEST/AFFINIA CHASSIS, CARQUEST/AIMCO, CARQUEST/AKEBONO, CARQUEST/RAYBESTOS, IMC, IMC MFG NUMBER CATALOG, INTERAMERICAN MOTOR CORPORATION, MAGNETI MARELLI OFFERED BY MOPAR, NAPA, NEW GENERATION/AMS, PROFESSIONALS' CHOICE/AMS, RAYBESTOS, RAYBESTOS UNBRANDED, RHINOPAC/AMS, TRW AUTOMOTIVE, WAGNER BRAKE, WD EXPRESS, WORLD CAR/AMS, WORLDPACPart Numbers: 1412-30604, 14D1028CH, 17D1028C, 17D1028CH, 17D1028M, 1AMV101028, 1AMV301028, 520 10280, 520 10280 253, 520 10280 462, 520 10280 503, 520 10280 504, 520 10280 507, 701-1028, 7932 D1028 GMA303, 7932 D1028 PMQ, AT1028, ATD1028C, AXCD1028, AXMD1028, BC1028, BCD1028, BCD1028H, BLC.10280, D 91028 OSM, D 91028 SC, D 91028 SM, D1028CT, EHT1028H, MGD1028CH, N1010-146744-AKE, P10030N, PCD1028, PD1028, PGD1028C, SGD1028C, SPC1028S, SPF1028C, SPM1028S, TPC1028, UP-7932-X ABOUT THE SELLER
Thank you for visiting AutoPartsWAY. At AutoPartsWay.com, we live by a simple rule. We want to make sure that you never have to pay retail prices for your quality auto parts again. We go out of our way to provide a comprehensive list of replacement discount auto parts for most car and truck models that are available today. 
Additionally, we have a complete line of automotive accessories and performance parts available at all times. This is all possible thanks to the relationships that we've established with our suppliers over the years and our large warehouse network consisting of 48 warehouses throughout the USA. We can also offer OEM (original equipment manufacturer) parts, identical to what you could get through a dealer, at a fraction of the cost.
Most of the replacement parts we sell are from OEM (Original Equipment Manufacturers), meaning that the item is the same part you would purchase from your local car dealer but it will come in the parts manufacturers box. For example, a Bosch starter or alternator is exactly the same as the Mercedes or BMW starter or alternator but when you buy it from the dealer it comes in a Mercedes or BMW box. When you buy from us it comes in the Bosch box. Some items we sell are actually in the car manufacturer's box and when they are we will use the word GENUINE in the listing. We are happy to announce that we are participating in the eBay Global Shipping Program. We can ship just about anywhere in the world! The only exception is PO Boxes and some APO/FPO that are not part of eBay's program. You may contact us by phone to organize shipment if you are unable to do so via eBay. RETURN POLICYReturn shipping paid by: BuyerItem must be returned within: 14 DaysRefund will be given as: Money back or exchange (buyer's choice)
IMPORTANT!!!! DO NOT RETURN ANYTHING WITHOUT CONTACTING US FOR AN RMA# We have 48 locations throughout the USA. We also drop ship some items directly from manufacturers. For this reason you must contact us for an RMA# to make sure you are sending back to the correct address. The RMA number is a special identification number that we will create to track your return through our system. Without it, we could confuse your purchase with someone else's which could delay your credit. Please start all returns from within "My eBay" but contact us first for an RMA number. All vehicle fitment information on eBay is added automatically by eBay, therefore we are not responsible for vehicle application errors. Our return policy and warranty does not cover air freight charges, labor expenses, towing expenses, or rental car expenses resulting from installation errors, defective parts, or 'parts that do not fit'. A 20% restocking fee is only charged on items that are returned due to no fault of our company. A restocking fee is not charged on any other returns. WARRANTYWarranty Duration: OtherWarranty Type: Replacement Warranty
Portions of the part information on this page have been provided by WHI Solutions, Inc. All rights reserved.