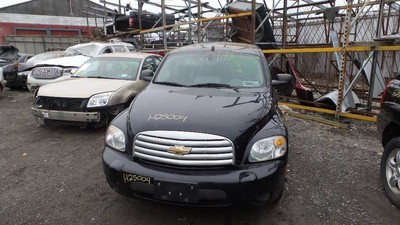 The seller's complete auction listing, and description of their auction is listed below! All Listings are provided by the item's seller, through eBay.com

Crossmember/K-Frame Front Fits 06-11 HHR 338890
Part Information
This part was removed from a 2008 HHR with 132000 miles on it. This part has been fully tested while installed and will go through our industry leading quality control inspection before shipping. This part is backed by our 6 Month - no questions asked money back guarantee at no additional charge.
If you have any questions about this part, or any other parts from this vehicle, please click HERE to send us a message. Please include stock number H25004 in your message so we know which vehicle you are asking about. We answer all questions promptly during regular business hours.
Part Notes
Notes:
FRONT
PLEASE NOTE: Our freight carrier cannot deliver this part to a residential address. They require a commercial address. Please see freight shipping information below for more information.
Donor Vehicle
Model:
HHR
Year:
2008
Mileage:
132000
Stock Number:
H25004
SEE MORE HHR PARTS    SEE ALL PARTS FROM THIS CAR
Part Fitment Information
This part will fit these makes and models with these options. If you do not see your vehicle in this list, please click HERE to send us a message so before buying so we can verify if it will fit your vehicle.
HHR 06-11 Front
Our Promise
Our Promise is that you are completely satisfied with every part you buy from Marks Auto Parts
This part is covered by our 6 Month Money Back Guarantee. If you have a problem with the part, changed your mind or the part does not fit, simply let us know. You have 6 Months from the purchase date to return it for a full refund. Please use the eBay return center for all returns. If you need help with returning an item, simply send us a message. We are here to help.
Please Note: Freight shipping is not refundable. If you need to return this part, please contact us first for a freight shipping quote.
About Marks Auto Parts
Marks Auto Parts is one of the largest family owned and operated auto recyclers in New York. Because you are dealing directly with our family, we are able to provide a higher level of service to you. We are committed to providing you with the best possible recycled auto parts purchasing experience.
If you need a part that we do not have in stock, we can find it from our network of some of the best recyclers in the country.
Freight Shipping Information
This part will ship via LTL Freight.
We will be calling you to confirm fitment of this part, the shipping address and the phone number on file for our freight carrier before this item ships. We will not be able to ship this out until we speak with you on the phone so please make sure that the phone number in your eBay account is current.
Our freight carrier requires a commercial business address with a loading dock or forklift to unload the truck. Most of our customers choose to ship directly to the shop that is installing their part as long as it is a commercial business address.
Our carrier cannot deliver this part to a residential address. We do have access to specialty freight carriers that can deliver to a residential address. They charge a premium for this service so please contact us first to get a shipping quote if you need it delivered to a residential address. Residential delivery is not included in the free shipping.
If you cannot provide a commercial business address, we can deliver this part to a freight terminal for your pickup at no additional charge. Please contact us first so that we can give you the location of your closest freight terminal.