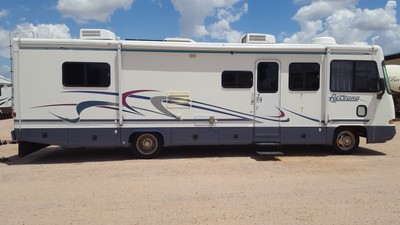 The seller's complete auction listing, and description of their auction is listed below! All Listings are provided by the item's seller, through eBay.com

30'
Allegro 2000 by Tiffin Motorhomes, including 2010 Chevy HHR tow-car
fitted with Blue Ox hitch and NAS inertia/surge brake. Ready to take
you wherever you please. Just completed 6,000 miles trip from AZ to
Canada and return without failure. Comfortable, smooth driving with
surprisingly little engine noise in passenger compartment. Perfect
for comfortable, economical touring and camping.
We have owned this rig since April 2017 and cannot be sure about its history
Main features:*
Workhorse chassis with 454 Chevy gas-powered V8, Allison 1000
automatic transmission and cruise control
*
56,000 odometer miles. and gives average 7mpg with towcar.
*
Tires about 65% without signs of cracking or mal-alignment wear.*
Brakes serviced in June 2017 with complete brake fluid replacement
*
New airbag suspension fitted May 2017 including new bags and
bell-housings*
Dual a/c runs very cool; propane heater; propane and electric hot
water heater - all in working order*
220watt Solar panel with Outback controller and Xantrex Prosine
inverter/charger installed in May 2017 for house battery charging
and 110volt supply, plus 110v to 12 volt converter, will support
dry-camping power needs, with Onan 7KVa gas-powered generator as
backup.
* Manual awning appears to be recently installed and in good condition*
Generous capacity Dometic Americana fridge/freezer runs on propane
or electricity *
On-board entertainment provided by HDTV, Satellite dish (not
connected) and dash radio*
Walk-around Queen size bed plus night-and-day lounge -- sleeps four
in comfort*
Lots of hanging space and drawers plus generous lockable external
cargo bays
*
Does NOT have slideouts or a washer/dryer == and this has not
reduced our enjoyment of Rving in this rig
2010
Chevrolet HHR Tow-car with BlueOx hitch
*
Tow-car is very comfortable and economical motoring with 22mpg
average, automatic transmission; Car-bra protection; odometer at
119,000 miles
*
Blue Ox hitch is safe, simple and easy to attach and detach in
minutes
* Comes
supplied with an assortment of good quality inclusions , eg. coffee
machine, cooking appliances/cookware, crockery and cutlery plus a
wide assortment of linen and towels plus two outdoor tables and two
folding chairs, a small BBQ, and small toolbox with some handy
tools*
Both the Allegro and the Chevy HHR have clear titles and are
licensed in AZ until May 2018.* Currently in California and may
be able to deliver at cost within this region for a serious
purchaser.
*
Please note: will NOT separate the RV and tow-car.