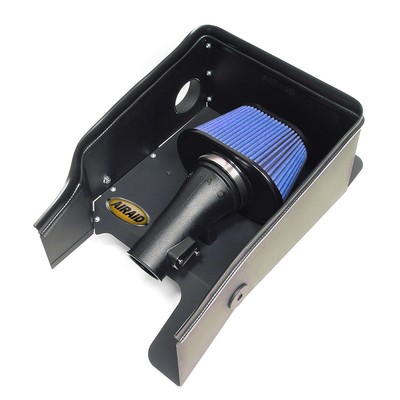 Authorized Dealer - 100% Satisfaction Guaranteed
The seller's complete auction listing, and description of their auction is listed below! All Listings are provided by the item's seller, through eBay.com
Our eBay Store About Us Items For Sale EXTERIORAccessoriesINTERIORAccessoriesPERFORMANCEPartsWHEELSAccessoriesLIGHTINGLights & BulbsOUTDOORRecreationTOOLS& GarageAUDIO& Electronics Airaid 203-195 AIRAID Cold Air Dam Air Intake System Fits 06-11 HHR AIRAID Cold Air Dam Air Intake System; Incl. SynthaMax Dry Blue Air Filter/Airbox/Intake Tube/Hardware; Part Number: 203-195Part Brand: Airaid VERIFY FITMENT - CONFIRM FITMENT REFER TO COMPATIBILITY ABOVE
It is important that Buyer verifies fitment.
Product Details
Air Intake Kit
AIRAID Cold Air Dam Air Intake System
AIRAID Cold Air Dam Air Intake System; Incl. SynthaMax Dry Blue Air Filter/Airbox/Intake Tube/Hardware;
SPECIFICATIONS:Air Filter Outlet Shape: RoundClamp Material: Stainless SteelClamp Style: Worm GearClamps Included: 4Couplers Included: 2Filter Color: BlueFilter Material: Non-woven SyntheticIntake Pipe Color / Finish: BlackIntake Pipe Material: High-Density PolyethyleneItem Weight: 13.0000 lbs.Mounting Hardware Included: YesProduct Box Height: 15.60 in. (396mm)Product Box Length: 19.90 in. (505mm)Replacement Filter: 723-440FEATURES:Increases Horsepower And TorqueReplaces Stock Air Box; Air Filter And Intake TubingCold Air Dam Panels Blocks Out Hot Engine Bay AirEasy To Install Using Common ToolsWashable And Reusable Air Filter MediaNo Hassle Lifetime WarrantyLifetime No Hassle Warranty
The AIRAID Air Box System is engineered to give your engine larger amounts of cooler air to produce more horsepower and torque. The intake system retains the original location of the air filter but delivers a big boost with the addition of a huge open-element air inlet protected by Cold Air Dam panels that help to provide a steady, free-flowing supply of cooler outside air into your engine. The panels mount in the factory air box location and utilize any factory cold air inlet ducts that are present, while adding additional cold air passages to the filter. The panels also keep the filter isolated from the hot engine compartment air by sealing to the underside of the hood via blade-style weather stripping. This air box system connects to the factory air intake tube. The AIRAID premium air filter is washable and reusable, less restrictive than traditional paper, and assures superior filtration. The AIRAID Air Box System is easy to install with common hand tools. Some AIRAID air box systems are not legal for sale or use in California and other states adopting California emission standards, while others are 50 state legal. View the product's vehicle applications to determine the legal status for each vehicle.
Founded in 1997, AIRAID advanced the automotive aftermarket industry with the introduction of its AIRAID Intakes brand of air intake systems. Initially developed for light trucks and sport utility vehicles, the first AIRAID kits combined an open-element cotton gauze filter with an intake tube to produce an innovative, easy-to-install intake kit which dramatically increased air flow, horsepower and torque while improving overall engine performance. Within five years, explosive sales proved that AIRAID's blend of technology and state-of-the-art materials were just what the performance parts market was missing. AIRAID Premium Filters were introduced in November 2002, securing AIRAID's place as a leader in air management for both gasoline and diesel power plants. AIRAID's product base now includes a wide variety of AIRAID Intake Systems, POWERAID Throttle Body Spacers and OEM replacement filters. Each AIRAID product line is the result of exhaustive research and development. Our in-house engineering team consists of both mechanical and industrial design engineers using the latest 3-D CAD modeling equipment to produce advanced designs that make more power right out of the box. A portable 3-D scanner and rapid prototyping machine allows AIRAID to test new products on our in-house Superflow flow bench and verify the unmatched fit, finish, and style that AIRAID customers demand. All products are then tested on our all-wheel-drive Mustang chassis dynamometer to produce real-world performance numbers. All AIRAID Premium Filters are produced in-house using only the finest materials available and highly specialized manufacturing equipment to ensure a level of quality control no other filter company can match. This is just one of many reasons why all AIRAID's filters are backed by our "No Hassle" Lifetime Warranty. All AIRAID's product lines are proudly manufactured in the USA.
Quality OEM, Performence Parts and AccessoriesAuto Body PartsBody KitsBull Bars & Grille GuardsCar CoversChrome TrimCustom GrillesFender-FlaresLicense Plates & FramesLight Guards & CoversMud Flaps & Splash GuardsOff-Road BumpersRoof Racks & Cargo CarriersRunning BoardsSide VentsTire & Wheel AccessoriesTrailer Hitches & TowingTruck Bed AccessoriesWheelsWind DeflectorsBug DeflectorsBillet PedalsCustom GaugesDash CoversDoor SillsFloor MatsInterior TimsSeat CoversShiftersSteering WheelsStorage-Security-BoxesHead LightsLED LightsOff-Road LightsReplacement BulbsTail LightsAir IntakesAir FiltersBrakes & RotorsEngine ComponentsExhaust SystemsExhaust PipesFuel System PartsIgnation SystemsProgrammers & ChipsSuspension Parts