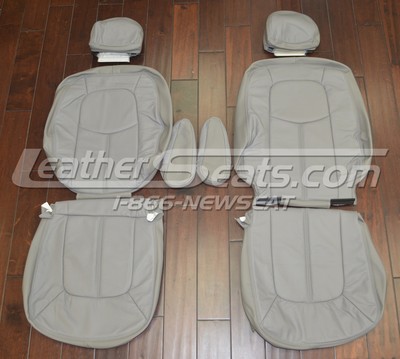 The seller's complete auction listing, and description of their auction is listed below! All Listings are provided by the item's seller, through eBay.com

LeatherSeats.com | Ebay Template
2007 - 2011 Chevrolet HHR Leather Seats
Factory Style HHR Leather Seat Covers
Specs
Year
2007-2011
Make/Model
Chevrolet HHR
This pattern works ONLY with the passenger seat fold flat option!
This will NOT fit the SS model
Other Information
Buyer must specify year and trim level
Comes in single tone Ash
Although this auction is for this specific color combination only, we have many more colors available! Please CONTACT US if you were looking for something different!
Please allow Two Weeks for us to custom build this interior for you!
Included Items
Driver's Side Front Bucket Seat Covers
Passenger's Side Front Bucket Seat Covers
Back Seat Covers
Additional Notes
This kit is made to replace all the existing upholstery on the front and back seats. This particular kit will ONLY work for Chevrolet HHR seats. If you have another vehicle then this kit will not work, but we can custom make one that does fit for your car. Please contact us for pricing and availability.
Description
All of our interiors are made using the finest European automotive grade leather and matching vinyl! Do not buy sub-par interiors made with leather that is imported from China to save a few bucks; these are made in the USA with Top Quality European materials!
The interior available will fit any 2007 through 2011 Chevrolet HHR. The buyer must specify the year, model, and trim level of their HHR as these are vehicle specific and there are several different seating options available. These upholstery covers are insingle tone Ash! Everything will be included for a complete cloth to leather conversion. These are full leather facing with matching vinyl on the sides and backs of the front seats, and leather inserts only on the rear, which is the same as most newer factory leather interiors. This OEM style replacement leather interior package is a great way to upgrade or customize your HHR interior!
Please allow Two Weeks for us to custom build this interior to your specifications!
Warranty Policy
All interiors are backed by a 3 year or 36,000 mile warranty unless otherwise stated in the auction. Please read the following warranty guidelines to be clear before bidding:
Policy:
We reserve the right to inspect the part with the reported defect before a replacement part will be sent.
If we decide to replace the defective part completely before inspecting the part then we do expect to receive the defective part back for full inspection. If we don't receive the defective part back or if we find that the defect was not related to our workmanship or materials then we reserve the right to charge the full retail price of the replacement part that was sent out.
Because every leather hide is different and changes in dye lots are out of our control color matches for repairs or replacement parts are not guaranteed to be exact.
We reserve the right to repair rather than replace any defective part.
Inspection of the product upon reciept is the sole responsibility of the customer. Any defects or warranty issues must be reported within the first 30 days from the time the interior is recieved excepted in excessive wear-through or cracking cases.
What We Cover:
We will warranty any defects in workmanship or defective materials for a full 3 years or 36k miles from the date of purchase.
We will warranty premature wear-through/cracking of the seating surfaces within the 3 year/36k mile warranty time period.
We will cover all the shipping costs to us and back to you for repair or replacement on authorized warranty claims.
What We Do NOT Cover:
Damage done during installation caused by installer's inexperience or error.
Damage caused by using inappropriate cleaning or conditioning chemicals.
Tears or cuts caused by any accident or owner abuse.
Any incidental expenses for down time including, but not exclusive to de-installation or reinstallation of the kit, rental cars, vehicle storage, hotel stay, etc.
Return Policy
Please read the following guidelines before bidding for our return information:
All returns are subject to a 25% restocking fee.
All returns MUST have prior authorization with a return authorization number before being shipped back or they will not be accepted.
Returns only accepted on kits with factory matching colors. All custom kits cannot be returned for any reason.
All returns must be authorized by us within 30 days upon receipt of the interior kit. No returns after 30 days.
Shipping
Shipping costs to anywhere in the continental United States is set at a flat rate of $FREE. Please contact us for quotes on shipping to Hawaii, Alaska, and outside the United States.
Leatherseats.com Gallery
**EXAMPLES ONLY. You are NOT bidding on these items.**
1985 Ford Mustang Convertible
Black with Red Leather Inserts Combo
1995 Acura NSX
Black with Yellow Leather Centers
1999 Jeep Wrangler
Black with Camel Centers
2003 Chevrolet Trailblazer
Single Tone Sandstone Leather
2005 Honda Element
Mist Grey with Blue Suede Custom Pattern
1995 Mitsubishi 3000GT
Dark Graphite with Burnt Orange Leather Inserts Combo
2002 Chevrolet Corvette
Black with Red Leather Inserts Combo
Customized Factory Interiors
8320 S. Shields, Oklahoma City, OK 73149
Toll Free: 1-866-NEW-SEAT (639-7328)
Local: (405) 848-9999 | ebay@leatherseats.com