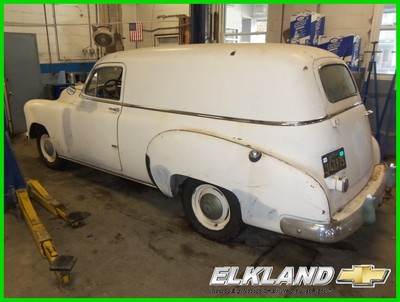 California Car in the northeast
The seller's complete auction listing, and description of their auction is listed below! All Listings are provided by the item's seller, through eBay.com

Scott May
(814) 258-7127
505 East Main Street
Elkland Pennsylvania 16920-1212

1949 Chevrolet Panel Sedan Delvery
Vehicle Information
VIN:
LBM148213
Stock:
panel
Mileage:

Color:
White
Body:




































































































































































































Apply Now
Secure Credit Application
Applying for a vehicle loan online is one of the quickest and easiest application methods. Our secure application is easy to complete, all you need are a few personal and employment details.
Credit Application
Directions to Dealer
Contact Us
Description
*******Had a smart question on the vin# come thru. I had used the identification # off the registration when I created this eBay listing. I've since pulled the title (and added picture of the title to the listing) Both the Title and Registration show the correct license plate number that is on the car, but have a different number for the vin# and the Identification#, so this is a bit confusing for me. However the vin# on the title and the vin# on the vin plate on door pillar do match, vin# 2GJD4015. Sorry for the confusion*******I bought this 1949 Chevy Sedan Delivery several years ago with the intentions of restoring it to original, with our Chevy dealerships name on it. Since purchasing it there always seemed to be other projects to spend money on, with past and future dealership expansions, so I'm now just admitting I'm never going to restore it. I purchased this Sedan Delivery from San Diego California area and had it shipped to Pennsylvania. I had looked for a very long time to get a Chevy panel delivery type vehicle, but around this part of the US they are mostly rot boxes, or worse, fixed up rot boxes. This sedan delivery is dry, no rust damage. There are 95 pictures of it on this listing to display the spots that most older cars rot away at. I've previously done two frame off restorations, of cars that needed sheet metal repair, and swore I'd never do that again, which is why I had this brought this 1949 Chevy in all the way in from California. Spend a couple grand extra for nice dry car now, or a few grand extra fixing up a rot box, I choose the first option.The person I bought it from in CA had owned it for several years, having inherited it from his uncle in the 1980's. He told me his uncle had bought it in 1960 time. He also had ambitions of restoring it but never got to it. His uncle was a painter and supposedly used it as his business vehicle for those 20 years. I took pic of the registration I found in the car from 1985, and picture of the chamber of commerce stickers from over the years, so this is believable. There are holes in the roof from where the ladder racks were taken off at sometime.Back when I bought this sedan delivery we did have it in the shop, hooked up a battery and the engine turned over great but would not fire. Took the valve cover off and the valves are stuck and couple of the push rods were bent. So you're not driving it anywhere.Pictures speak for themselves on the condition. It's no show car, but its a great start for restoration or hot rod. I see very few of these with all the trim still in tact. Yes it is missing the passenger seat, but I've been told that this is how these panel deliveries could be ordered back in the day. It was 1949's version on a cargo vanPlease email me with any specific questions you have on the car. Don't email me with offers. You want one cheaper, they're out there, just be ready to pony up for rust repair. I didn't steal this when I bought it, and I paid for shipping from CA, so price is what it is, you'll have to justify it or not.Tim Walters
Contact
Elkland Chevrolet
505 East Main Street
Elkland Pennsylvania 16920-1212
View Map
Ask for:Scott May
Contact:
Contact Us
main:(814) 258-7127
Hours
Mon-Thurs:08:00 AM-06:30 PM EST
Friday:08:00 AM-06:00 PM EST
Saturday:08:00 AM-02:00 PM EST
Sunday:Closed
About Us
Welcome to Elkland Chevrolet!! We are a small Chevrolet dealership located in North Central Pennsylvania, about a mile from the New York state line. We have sold vehicles from Maine to Washington state, from California to the Virgin Islands, with 100% positive feedback from our buyers!! We appreciate all of our internet business, and will do anything to make it a pleasant transaction. Our feedback is our future. Check it out.
We price our vehicles to sell, lower overhead = lower prices.

Similar Vehicles
Check out similar vehicles in our inventory.
View Inventory
Options and Standard Features
Basic Information
Stock Number: Panel
VIN Number: LBM148213
Model Year: 1949
Make: Chevrolet
Model: HHR Panel
Exterior Color: White
Engine
Fuel Type: Gasoline
Engine Description: 6 Cylinder
DriveTrain
Transmission: 3 On Tree!!
Terms
Placing a Bid: Your bid constitutes a legally binding contract to purchase this vehicle. Please do not bid if you're not seriously interested or financially able to purchase this vehicle. Please read eBay's User Agreement Walters Elkland Chevrolet, Inc reserves the right to, Obtain and verify the registered information of all users who bid on this auction. Cancel any and all bids at our discretion, or end the auction early if necessary. Bidders Age: You must be 18 years of age or older to Bid. Special eBay Bid Retraction Rules: Please read eBay's "Retracting a Bid" If you place a bid before the last 12-hour period of the auction: You may retract that bid before that last 12-hour period but only for exceptional circumstances. You will not be allowed to retract that bid during the last 12-hour period of the auction. If you place a bid during the last 12-hour period of the auction: You will be allowed to retract the bid for exceptional circumstances but only if you do so within one hour after placing the bid. Funds & Financing: For help in arranging for a Pre-Approved loan or for any questions please e-mail or phone Sales Departmentat 814-258-7127 prior to bidding. Buyers Inspection: Walters Elkland Chevrolet, Inc has done our best to disclose all information known about this vehicle for auction. Walters Elkland Chevrolet, Inc welcomes a buyers inspection. If you plan to have a buyers inspection, please make sure you inspect the vehicle prior to the auction ending. Inspection fees if any are Buyers responsibility. Representations and Warranties made by seller: This vehicle is being sold "as is". Manufacturers warranties may still apply. Extended warranty may be available, e-mail or phone Sales Department at 814-258-7127 for details. No representations or warranties are made by seller, nor are any representations or warranties relied upon by bidders in making bids. Taxes and Registration fees: Out of state buyers are responsible for all state, county, city taxes and fees, as well as title service fees in the state that the vehicle will be registered. All taxes and fees must be paid in full in order for vehicle to be titled and registered. Title Information: Vehicles titles may be held by banks or lenders as collateral for loans. In many cases there is a delay in receiving the original instruments up to 21 days from the time we pay a vehicle off. While we usually have all titles in our possession at closing, there are occasions where we may be waiting for them to arrive. If payment is made by cashier's or personal checks we will hold all titles for 10 days or until funds have cleared. Shipping & Delivery: All shipping charges are buyer's responsibility. Walters Elkland Chevrolet, Inc will help with shipping arrangements but will not be responsible in any way for claims arising from shipping damage! Licensed Carriers are generally insured for $3,000,000.00. We assume no responsibility for damages incurred after the vehicle leaves our showroom. All shipping arrangements are provided by Walters Elkland Chevrolet, Inc as a courtesy. We are not affiliated with any carrier. Any claims or other communication regarding shipment of vehicles will be between you and the shipper, not with Walters Elkland Chevrolet, Inc. The amount of time it takes for delivery is dependent on the carrier, but is generally 7-14 days from the date the vehicle is picked up from our facility until it is delivered to your destination. Verify with the shipper for an Estimate Time of Arrival to be sure. Finalizing your Purchase: Walters Elkland Chevrolet, Inc will contact the successful high bidder by e-mail after the auction closes. Successful high bidder MUST communicate with Sales Department at Walters Elkland Chevrolet, Inc by e-mail or phone814-258-7127 within 24 hours of the auction ending to make arrangements to complete their transaction. If we cannot confirm your intention to buy or the sale is not completed within 5 days, we reserve the right to relist this vehicle or sell to any other qualified buyer. In order to secure bid on vehicle, Successful bidder (BUYER) must within 24 hours of bid closing send to Seller a Deposit in the amount of 10% by major credit card, cash in person or bank certified funds. Within 72 hours of bid closing, Buyer must send balance of funds by cash in person or bank certified funds to Seller. At time of sending initial deposit, Buyer MUST fax copy of their State issued valid Driver License. Furthermore, before said vehicle is released for shipment to Buyer, all other Sale related and title related paperwork must be signed and returned complete to Seller.
Selling a Vehicle? Create Professional Listings Fast and Easy. Click Here!
Copyright © 2018 Auction123 - All rights reserved. - Disclaimer
Auction123 (a service and listing/software company) and the Seller has done his/her best to disclose the equipment/condition of this vehicle/purchase. However, Auction123 disclaims any warranty as to the accuracy or to the working condition of the vehicle/equipment listed. The purchaser or prospective purchaser should verify with the Seller the accuracy of all the information listed within this ad.