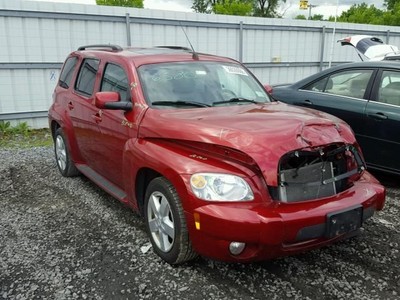 This Is The Fuse Box Located In The Engine Compartment
The seller's complete auction listing, and description of their auction is listed below! All Listings are provided by the item's seller, through eBay.com
Powered by Frooition
All Items
See our eBay store for more great items >>
Shop CategoriesAll Categories 09 10 11 Chevy HHR Fuse Box Exc. Ss Electric Driver Seat 2232430
Item Description
This listing is for a USED 09 10 11 Chevy HHR Fuse Box Exc. Ss Electric Driver Seat 2232430 located in the engine compartment. It is NOT the interior fuse box. Listing is for the fuse box only and does not include the fuses. This part was removed from a 2010 HHR stock number JBF101 and the mileage was 116334 miles. Please see the Part Fitment information below for proper vehicle fit and the part details section for additional information.
Click HERE to see more parts we have available on eBay from this 2010 HHR .
Part Details:
Interchange: 646-01549
Vehicle Stock: JBF101
Inventory ID: 2232430
Mileage: 116334
Placement:
Part Condition Notes: 2.2, TESTED
Part Fitment:
HHR 09-10 exc. SS; electric driver seatHHR 11 electric driver seat
This part has a 6 month warranty and will ship via UPS ground. UPS tracking numbers will be uploaded to eBay once the package has left our facility with UPS which is usually by 7PM eastern time.
If the first image on the listing is a part photo it will be the actual part being sold. If a part photo is not available the first image will be the part's donor vehicle image. If a photo of the actual part is not shown you may request a photo be added to the listing. All vehicle image(s) shown are of the donor vehicle at the time we received it and before it was dismantled. The photos may not represent its current state or available parts.
If you have any questions or issues with the part you receive please contact us through eBay messaging and we will be happy to help. We have been in the recycled auto parts business for over 30 years and stand behind every part we sell.
Thank you very much for shopping with JBAP!
PART FITMENTPART FITMENTGUARANTEESHIPPINGPAYMENTHELPPART FITMENTHHR 09-10 exc. SS; electric driver seatHHR 11 electric driver seatGUARANTEEGUARANTEEOur Mission: It is our mission to provide the highest quality recycled automotive part at a competitive price which is backed up with one of the best warranties in the industry and to provide customer service second to none. Our progressive approach allows us to save our customers time and money while protecting and preserving our environment.
Jerry Brown's Auto Parts offers a 100% Satisfaction Guarantee! Unless stated otherwise in the product description, all used parts come with a six month replacement limited warranty and a 30 day money-back return period. All new parts come with a 1 year warranty and a 30 day money-back return period. We also offer extended warranties on our parts for an additional fee. Please contact us through eBay messaging for more information.
In the event a part sold with a warranty fails to operate within the warranty period we will replace the part(s) with a functionally equivalent part or refund the part purchase price, at our option.
WARRANTY PERIOD BEGINS ON THE DAY THE PART IS DELIVERED. WARRANTY IS FOR REPLACEMENT OF THE PART ONLY AND DOES NOT INCLUDE ANY TOWING, LABOR, FLUIDS, SEALS OR GASKETS. ALL PARTS MUST BE INSTALLED TO MANUFACTURER'S SPECIFICATIONS. FAILURE TO INSTALL PARTS PROPERLY WILL VOID ALL WARRANTIES. YOU MAY BE REQUIRED TO SUBMIT DOCUMENTATION REGARDING THE INSTALLATION TO SUPPORT A WARRANTY CLAIM.
To return an item you must contact us through eBay messaging to obtain a return authorization. Parts returned after 30 days will be subject to a 15% restocking fee.
A refund for the purchase amount will be issued within 48 hours of receipt of the returned item. Buyer is responsible for shipping any returns at their cost. Buyer's return shipping costs are not refundable at any time. Jerry Brown's Auto Parts will ship warranty replacement items at our cost.SHIPPINGSHIPPINGAll of our items have Free Shipping. Most parts will ship via UPS ground. Items over 100 pounds such engines, transmission, doors and trunk lids will ship by freight carrier.
Most orders will be shipped within one business day however for freight shipments we will need more information from you to provide to the carrier before your item will ship. Please provide a valid phone number with your payment. Once payment for a freight item is received a representative from JBAP will contact you to schedule a freight shipment, verify your vehicle fitment and answer any questions you may have regarding the freight shipment.
Our shipping department is closed on weekends.
Tracking information will automatically be uploaded to eBay and also sent to you by e-mail directly from UPS once your order has left our facility.
Large items such as engines, transmissions and axle assemblies will ship via common freight carrier. Parts shipped by freight are pallet strapped and wrapped. Freight shipments must be sent to a COMMERCIAL ADDRESS, such as a business or repair shop with a loading dock or forklift. Most residential addresses are unable to accomodate delivery and unloading of an 18 wheel freight truck. It is the buyer's responsibility to ensure the location will accept the shipment and can properly unload the part from the tractor trailer. If you don't have a business address we may also be able to ship to a freight terminal near you and you can pick up the item at the terminal. They have the equipment to load your part onto a pickup truck, trailer, etc, and usually there are no additional fees for their service. Please contact us and we can let you know the teminal addresses we have available in your area.
Please inspect all freight shipments prior to signing for the delivery! If any transit damage has occurred please refuse the shipment and contact us through eBay messaging for assistance. We will take care of it from there and file a claim with the carrier and arrange a replacement or refund for you. It is very important to not sign for a damaged freight shipment! You have the right to examine the shipment for obvious signs of damage prior to signing and accepting the delivery. If a delivery driver refuses to allow you to inspect the shipment until you sign for it please do not sign, refuse the shipment and contact us through eBay messaging. Your signature on the delivering carrier's freight Bill Of Lading (BOL) constitutes acceptance of the merchandise as is and in good order so please inspect it before signing for it. However, if you inspect the shipment, sign for it, but later you find damage that you could not see during the initial delivery, please don't worry! This is called concealed damage and we can still work the carrier on your behalf and file a claim so all you need to do is let us know. We will need you to send us some photos of the damage so we can file that claim with the carrier. If you have any questions regarding freight shipments please contact us through eBay messaging prior to purchasing.
If a UPS delivered item arrives damaged, please retain all packaging and contact us through eBay messaging for immediate assistance. We will open a damage claim with UPS and arrange for the return and replacement of the item at our expense.
We are not responsible for any delays incurred by the shipping carrier.
Be sure to provide us with all necessary contact information. This includes your name & phone number as well as business name, address, and contact information for delivery. We do not ship until we have all required information.
Customer pickup at our location is available but must be scheduled in advance. There is no pickup charge, but contact us first and we will let you know when you can pick up your part. All pick up orders must be charged NY Sales tax regardless of your State of residence.
We cannot ship to P.O. Boxes. Please provide a UPS shippable street address.
No International shipping is available outside of the eBay Global Shipping program. We also do not ship to Hawaii, Alaska, Puerto Rico, APO, FPO, AA, AE, AP and U.S. Territories outside of the continental U.S.
PAYMENTPAYMENTWe accept immediate payment through PayPal and credit or debit cards processed through eBay checkout. A Paypal account is not required to use a credit or debit card through eBay checkout.
New York State Sales Tax will be applied to all orders shipped to addresses in the state of New York.
If you have a New York State resale certificate for your business please contact us through eBay messaging for redemption instructions prior to your purchase.
Some of our listings may use the Best Offer feature. If Best Offer is available on the item it will be on the listing. If you make a Best Offer and your offer is accepted payment is due within 5 business days. If payment is not received after 5 business days the item will be relisted and an unpaid item case will be opened.HELPHELPWill this part fit my vehicle? We are asked this question all the time and it is always a good idea to check if you are uncertain. With so many variations and applications our part description may not be enough for you to be certain it will fit your vehicle. We will be happy to verify to the best of our abilities and information available whether or not the part will fit your vehicle. To check on a part application we will need your vehicle's Year, Make, Model, Engine Size (2.4L, 3.2L, V6, etc.) Transmission Type (manual or auto), and the Body Type (2 door, 4 door, 5 door hatch, etc.). Providing this information with your request will speed up our reply. Without this information our first reply to you will be to ask for this information. If we need additional information to complete the verification we will contact you. Our normal business hours are Monday through Friday 8AM to 6PM eastern time and we will try to fill part application verification requests as quickly as possible during these hours. If your request is made at night we will work on it the next business day. If your request is made over the weekend we will try to answer over the weekend but sometimes we need to wait until the warehouse reopens on Monday to fulfill your request and we will respond to let you know we need to work on it Monday. This includes all requests for visual identitfications on a part such as a verification of the part number that is printed on the part or photo requests (see below).
Some helpful information about the codes you may find in our listings:
AT: Automatic Transmsision
MT: Manual Transmission
L.: Left (Driver Side)
R.: Right (Passenger Side)
FT: Front
RE: Rear
LF: Left Front
RF: Right Front
LR: Left Rear
RR: Right Rear or Rear
FWD: Front Wheel Drive
RWD: Rear Wheel Drive
AWD: All Wheel Drive
WB: Wheel Base (The measurement from the center of the front wheel to the center of the back wheel)
W/: With
W/O: Without
EXC: Excluding
OPT: Option (Any code, letters or numbers that follow OPT must also appear on your vehicle's option code sticker)
SDN: Sedan
SW: Station Wagon
CPE: Coupe
HTBK: Hatchback
DOHC: Dual Overhead Cam (Your engine must be a DOHC to use this part)
SOHC: Single Overhead Cam (Your engine must be a SOHC to use this part)
OHV: Overhead Valve (Your engine must have an OHV to use this part)
TXT: Textured
BLK: Black
SIL: Silver
MNT: Mount
ADJ: Adjuster
QTR MTD: Quarter Panel Mounted (Tail lights mounted on the quarter panel and not on trunk lid or hatchback)
LID MTD: Trunk Lid or Hatchback Mounted (Tail lights mounted on the trunk lid or hatchback and not on quarter panel)
Item Photo Requests We have too many items in stock to photograph every one before we put it up for sale but we will be happy to try and take a photo of the item you are interested in. Our normal business hours are Monday through Friday 8AM to 6PM eastern time and we will try to fill photo requests as quickly as possible during these hours. If your request is made at night we will work on it the next day or on Monday if your request is made over the weekend.
Location: If part locations on the vehicle are noted in the listing they are as if you were sitting in the driver seat. Example: Left is driver side. Right is passenger side. Front is towards the engine. Rear is towards the trunk, hatch, or bed.
All parts have been:
Carefully Inspected!
Quality tested!
Drained of their fluids and/or filters removed (as applicable)
Inspected for internal wear or damage
All of our parts have been carefully removed from the vehicle by our professional dismantlers
All of our parts are carefully pressure washed to remove excess dirt and grease
Please be aware that most of our vehicles are purchased in the northeast and some of our parts may have surface rust. This will NOT affect the performance or function of the part.
You can always send us questions and messages through the eBay messaging system.
We do respond to questions over the weekends but often we need to wait until the warehouse or shipping department reopens on Monday to properly respond so please be patient. If your question or request needs to wait until Monday for a proper response we will let you know that in advance.
If you have a question about a part's vehicle fit please contact us BEFORE purchasing.
If we are unable to answer your question before the listing ends the item will be re-listed again soon for you to purchase.
If you cannot find a part that you need in our store, please contact us and we will let you know if we can get it and the price. Helpful Links
Add to Favorite Sellers
View Feedback
Contact Seller
Visit seller's eBay Shop
About Seller Page
More Items!
View more great items!
Powered by FrooitionFrooition Frooition | No-js Template | eBay design, eBay store design, eBay shop design, eBay template design, eBay listing design (ver:froo_no_js)This listing is currently undergoing maintenance, we apologise for any inconvenience caused.