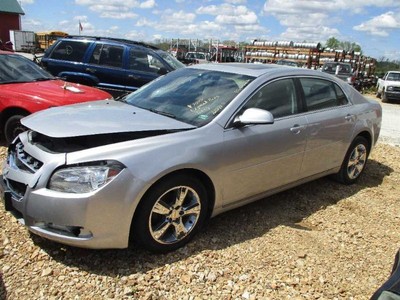 The seller's complete auction listing, and description of their auction is listed below! All Listings are provided by the item's seller, through eBay.com
Template By Frooition Lite! 05 06 07 08 09 10 COBALT AIR FLOW METER 221760     Donor Vehicle   Model MALIBU Year 2010 Mileage 104000 Miles    (0 = not available or unknown) Stock Number 160231 Store Number  1 NOTE: Image(s) shown may be the vehicle from which the part was pulled, or a generic image representing typical stock, rather than the unique item being sold.   Part Detail (see Help) Part Grade Part Category Y Part Placement Notes USED  This part will fit these makes and models with these options AURA 08-09 2.4LCAMARO 10-13 6.2LIMPALA 10-11ION 05-07 2.2L (opt L61)STS 10 4.6LSAAB 9-5 11 2.0L (VIN R, 8th digit, opt LHU)XTS 14-16 (3.6L), VIN 8 (8th digit, opt LF3), ID 15865791CANYON 07-12COLORADO 07-12CORVETTE 13ENVOY 07-09 4.2LMALIBU 09-12 2.4LVERANO 13 2.4LISUZU I-290 07-08G6 10 2.4LSTS 08-09 4.6LTRAILBLAZER 06 4.2LTRAILBLAZER 09 4.2LVUE 10 2.4LHUMMER H3 07-10IMPALA 14 VIN 1 (4th digit, New Style), 2.4LREGAL 15 2.4L, (VIN R, 8th digit, opt LUK eAssist)STS 07 4.6LCORVETTE 06-07 7.0LSRX 07-09 4.6LSTS 06-07 4.4LSPARK 13-15CORVETTE 08-12LACROSSE 10 3.0LLACROSSE 10-16 2.4LSTS 08-09 4.4LTRAILBLAZER EXT 06 4.2LCOBALT 05-10IMPALA 09 ID 15865791REGAL 14 2.4L, VIN R (8th digit, opt LUK eAssist)TERRAIN 10-11CAMARO 14-15 6.2LREGAL 12-13 2.4LTRAILBLAZER 07-08 4.2LVUE 07 (2.4L)XLR 07-09 4.4LISUZU I-370 07-08MALIBU 13-14 2.4LSAAB 9-5 10 VIN G (4th digit), 2.0L (VIN R, 8th digit, opt LHU)ALLURE 10 2.4LG5 09-10 (2.2L)HHR 06-11REGAL 11 2.4LISUZU ASCENDER 06 4.2LENVOY XL 06 4.2LG6 06 2.4LSRX 10-11 3.0LENVOY 06 4.2LPURSUIT 05 (2.2L)SOLSTICE 06-10XLR 06 4.4LISUZU ASCENDER 08 (4.2L)G6 07-09 2.4LION 06-07 2.4L (opt LE5)PURSUIT 06 2.4LRAINIER 06-07 4.2LSAAB 9-7X 07-09 6 cylVUE 08-09 2.4L, ID 12576410G5 07-08 2.2LALLURE 10 3.0LAURA 07 2.4L, HybridCAMARO 14-15 7.0LIMPALA 15-16 VIN 1 (4th digit, New Style), 3.6L, VIN N (8th digit, opt LFR)MALIBU 08 new style (emblem in bumper cover), 2.4LPURSUIT 06 2.2LSKY 07-10VUE 08-09 2.4L, ID 15865791CTS 14-15 3.6L, VIN 8 (8th digit, opt LF3)EQUINOX 10-11G5 07-08 2.4L Guarantee and Returns
 Every part sold through ebay motors will come with a 90 day parts only warranty,no labor warranty is provided.
 If part fails to operate within the 90 day warranty period we will replace the part(s) with a functionally equivalent  part or refund the part purchase price, at our option.   
 Please read & check to make sure this correctly fits your vehicle before purchasing. Our warranty does not  cover you ordering the wrong part.
 
 No refund on deposits or unwanted special order parts or special "cut" items.        
        
 To return an item you must contact us via eBay Message within the 14 day period to obtain a RMA number  (return material authorization).        
        
 Original shipping charges and return shipping charges are not refunded.        
        
 Once you obtain an RMA number, ship the item back to        
 Junior Sinn Auto Parts LLC, 588 County Road 649, Cape Girardeau, MO 63701        
 along with the RMA number.        
Shipping
Junior Sinn Auto Parts LLC ships to US addresses within the 48 states only via UPS ground.        
        
No Alaska, Hawaii, Puerto Rico, APO, FPO or PO Box please.        
        
No International shipping available.        
        
Pick up at our facilities is available. Please email us prior to your purchase to arrange pick up.        
Items will be shipped within 1-2 days of purchase.        
        
Please allow 5-10 days for delivery. Most areas in the US are within 5 days. No expedited shipping is available.        
        
If an item arrives damaged, please contact us via eBay Message within 24 hours for instructions.        
 
Payment Policies
We accept immediate payment using a credit card via PayPal only.        
        
Sales tax will be applied to all orders shipped to the state of MO.        
 
Help
Core Charge. Core is an acronym for 'Cash On Return'. A core charge is sometimes applied to rebuildable parts such as engines,transmissons and transfere cases that can be redeemed for a portion of their original price. If the part you are purchasing has a core charge applied, it will be noted in the description.
Parts Grading. A standard code system is used to communicate the condition and quality of a part between automotive recyclers, automotive repair shops, and insurers. Knowing how these codes are used will help you understand whether the part meets your expectations before you buy it and what you can expect from the part when you receive it.
A Grade
- The highest quality part. It is of low miles and/or exceptional condition for its age.
B Grade
- The second level quality part. It is of average miles and normal condition for its age.
C Grade
- The third level quality part. It has high miles and/or light damage.
No Grade
- A part that has not yet been graded.
To learn more about Parts Grading click here.
Contact Us
If you have a question about a part please contact us BEFORE purchasing.        
        
Our main contact method is by eBay Messages. We try to answer all messages within 24 hours.        
        
If we are unable to answer your questions before the listing ends the item will be re-listed again soon for you to purchase.        
 
        Lite template by Frooition.com Frooition www.frooition.com | eBay design, eBay store design, eBay shop design, eBay template design, eBay listing design